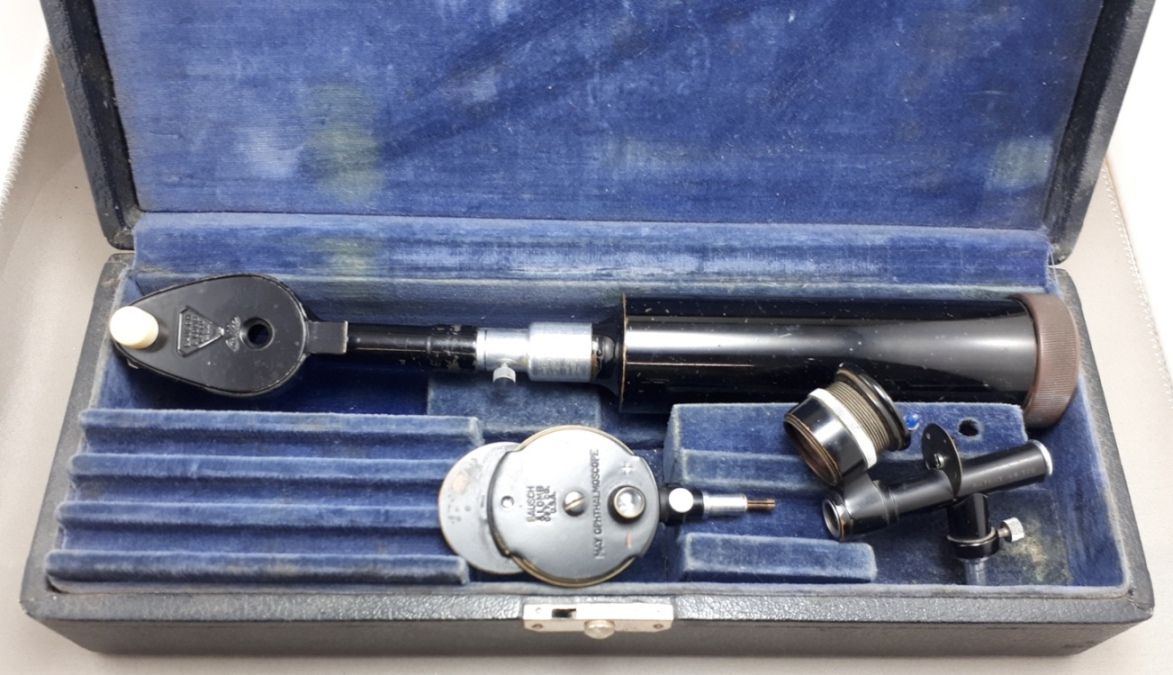 Bausch & Lomb cased ophthalmoscope, retinoscope & magnifier set
Sub-Category:
Ophthalmoscope retinoscope set
Corporation:
Bausch & Lomb Optical Co
Year Of Publication/Manufacture:
1947
Time Period:
1940 to 1999
Place Of Publication/Manufacture:
Rochester, NY, USA
Publisher/Manufacturer:
Bausch & Lomb Optical Co
Description Of Item:
Diagnostic set comprising metal battery handle, ophthalmoscope, retinoscope, magnifier, spare bulb and certificate of inspection. Ophthalmoscope marked 'BAUSCH & LOMB OPT Co USA. U.S. PAT. 2,080,844'. Retinoscope and magnifier marked 'BAUSCH & LOMB OPT. Co. U.S.A.'.The third optical instrument has a large eyepiece with a magnifying lens mounted at an angle to the illumination beam. It has a wheel of five different apertures, three round and two slits. This forms a monocular hand-held slit-lamp. Certificate of inspection dated 'JUNE 5 1947'. Case: 290mm W x 63mm H x 112mm D.
Historical Significance:
Refer Cat No 3240, an earlier B&L diagnostic set, in which the magnifier/hand slit lamp is marked as 'Pat 1631329'.
How Acquired:
Donated by Margaret Banks
Date Acquired:
October 2019
Location:
Archive Office. Cabinet One Drawer 15