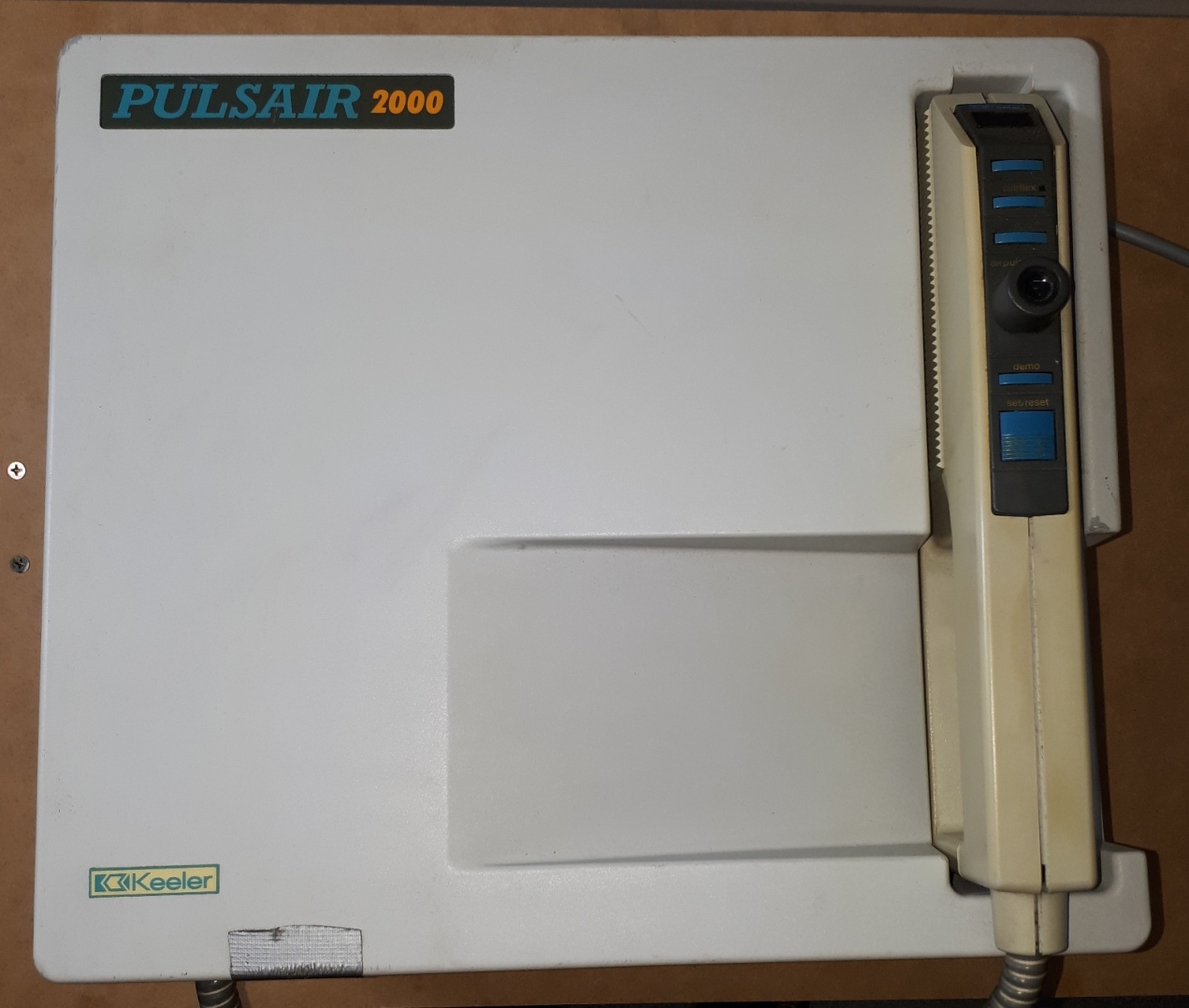 Keeler Pulsair 2000 tonometer
Designer/inventor:
John Fisher, PA Technology
Year Of Publication/Manufacture:
1990s
Time Period:
1940 to 1999
Place Of Publication/Manufacture:
United Kingdom
Publisher/Manufacturer:
Keeler Ltd
Description Of Item:
Keeler Pulsair 2000 non-contact tonometer. Light grey plastic handpiece with blue controls in dark grey panel with blue and orange print. Handpiece connects by flexible conduit to main body of instrument which can be wall mounted. Base of instrument carries Serial No 025979. Together with black vinyl carry bag, clear vinyl dust cover and printed record pad for readings. Carry case and dust cover bear logos for British Design Award 1988 (The Duke of Edinburgh's Designer's Prize) and Queen's Award for Technical Achievement 1989. 352mm W x 310mm H x 195mm D.
Historical Significance:
The Keeler Pulsair tonometer was launched in 1986 to provide a portable, hand-held and non-contact form of tonometry. Improvements in electronics and software led to the development of the Pulsair 2000 launched in 1991. The Pulsair 2000 allowed automatic averaging of 4 readings and an automatic high pressure mode if IOP exceeded 30. The Keeler Pulsair 3000 became available in 1998. The Keeler IntelliPuff was launched in 2007. Ref: British Journal of Ophthalmology 2001: 85: 1303-1304, VA Parker, J Herrtage, NJC Sarkies.
How Acquired:
Donated by Greg Vercoe
Location:
Archived journals room