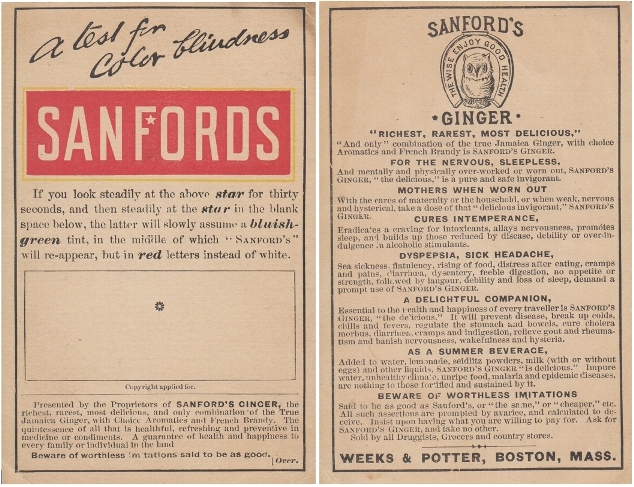 Advertising card for 'Sanford's Ginger' featuring 'A test for color blindness'.
Category:
Memorabilia and ephemera
Sub-Category:
Advertising, trade and products
Corporation:
Weeks & Potter
Year Of Publication/Manufacture:
1940s
Time Period:
1940 to 1999
Place Of Publication/Manufacture:
Boston, Mass., USA
Publisher/Manufacturer:
Weeks & Potter
Description Of Item:
Advertising card for Sanford's Ginger. One side of card shows logo for Sanford's Ginger with an owl and the words 'THE WISE ENJOY GOOD HEALTH', and the distributor 'WEEKS & POTTER BOSTON MASS'. Other side of card is headed 'A test for color blindness' and has 'SAN*FORDS' within a red/orange rectangle. Viewers are instructed 'If you look steadily at the above star for thirty seconds, and then steadily at the star in the blank space below, the latter will slowly assume a bluish-green tint in the middle of which 'SANFORDS' will re-appear, but in red letters instead of white.' No explanation is given as to how this might be used to detect defective colour vision. Size: 134 x 88 mm.
Historical Significance:
This 'Test for color blindness' is based on P B Wiltberger's work on the differences in appearances of after-images between colour vision normals and defectives. See Cat No 3887. Ref Wiltberger, PB: A New Test for the Detection of Color Blindness, 1941, College Book Company, Columbus Ohio.
How Acquired:
Donated by Pamela Sutton
Condition:
Good, creases in corner
Location:
Archive office. Pamphlet and ephemera filing cabinet. Drawer 10