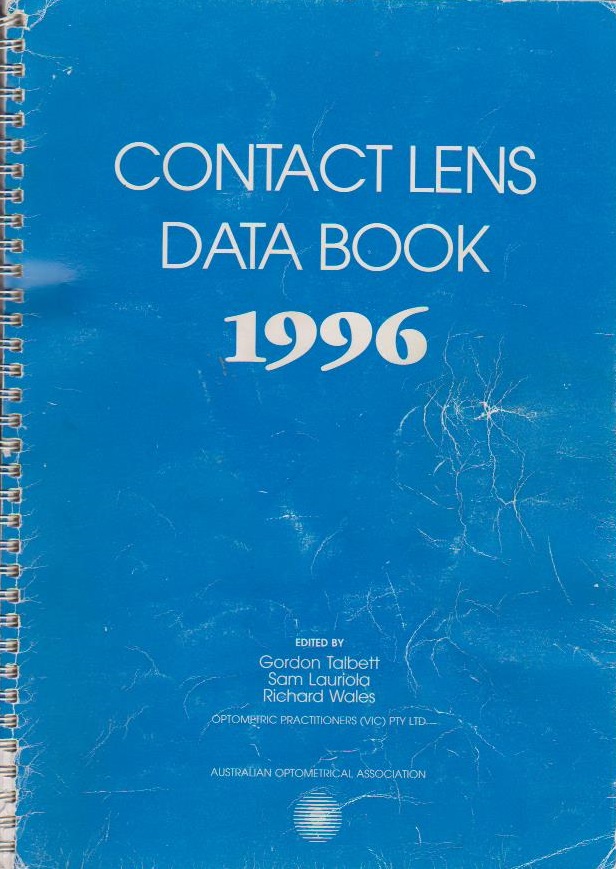 Contact Lens Data Book 1996
Sub-Category:
Manual, for instruments etc
Author:
Gordon Talbett, Sam Lauriola and Richard Wales
Year Of Publication/Manufacture:
1996
Time Period:
1940 to 1999
Place Of Publication/Manufacture:
Carlton, Victoria, Australia
Publisher/Manufacturer:
Australian Optometrical Association
Description Of Item:
Metal comb bound blue soft card covers, 92 pages, containing information about contact lens manufacturers, suppliers and their products available to Australian optometrists in 1996.
Historical Significance:
The authors were employees of Optometric Practitioners (Vic) Pty Ltd and the book was supplied by OPV to the AOA for distribution to their members. It was a valuable source which enabled optometrists to identify contact lenses as well as information regarding designs, parameters and suppliers of contact lenses. The lead author, Gordon Talbett MSc (London) DIC BSc (Optom) LOSc was a graduate of the University of Melbourne and the Victorian College of Optometry.
How Acquired:
Donated by Bruce Workman
Location:
Archive office. Pamphlet and ephemera filing cabinet. Drawer 10