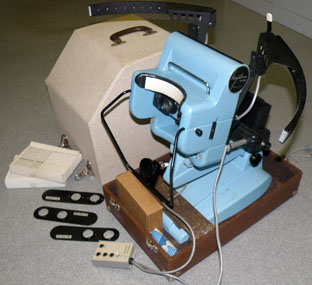 Visual Survey Telebinocular
Sub-Category:
Vision screener
Designer/inventor:
Gifford M Mast & Wright K Gannett
Year Of Publication/Manufacture:
1975
Time Period:
1940 to 1999
Place Of Publication/Manufacture:
Davenport, Iowa, USA
Publisher/Manufacturer:
Keystone View Co
Description Of Item:
Binocular vision screener. Light blue coloured metal unit with eyepiece section, built-in target illumination and adjustable cardholder mounted on lockable angle-poise arm and base. Fold out arms for testing of periheral vision. Remote control for peripheral testing with electric cord. The instrument is contained in a metal cloth-covered case 480 mm L x 305 mm W x 480 mm H with handle. The instrument is secured in the base of the case and the upper part of the case lifts off. Labelled: 'VISUAL SURVEY TELEBINOCULAR/MADE IN USA. PAT No 2,557,608. KEYSTONE VIEW SINCE 1892. DIVISION OF MAST/ KEYSTONE DAVENPORT, IOWA 52803.' with 2 sets of Keystone target cards, two sets of test cards for testing children's vision, 3 sets of pairs of plus lenses (+1.75 D. +2.00 D, 2.25 D for testing for hypermetropia, spare lamp, wrench and several sets of instruction sheets for different test procedures, envelope with S109 Snellen NP Acuity Test, plastic dust cover.
Historical Significance:
US Patent 2,557,608 was granted on June 19, 1951 to Gifford M Mast & Wright K Gannett and assigned to the Keystone View Company. (See an another example of an earlier date at Cat No 1650 instruction manual Cat No 2016). The Keystone View Company was founded in 1895 by B L Singley, a typewriter salesman, with an interest in stereographic photography. It became a major distributor of stereographic images, located in Meadville, Pennsylvania. From 1892 to 1963 Keystone produced and distributed both educational and comic/sentimental stereoviews, and stereoscopes. By 1905 it was the world's largest stereographic company. By 1935 it had photographers around the world and a stock of 2 million stereo negatives. Keystone's Stereo-ophthalmic Department was formed in 1932 to meet the needs of eye specialists, safety and efficiency engineers and psychologists who needed stereoscopic vision tests. In 1963 Department A (stereoviews sold to individual families) and the Education Departments were closed down, but Keystone continued to manufacture eye-training stereographic products as a subsidiary of Mast Development Company. In 1972 Mast closed the Meadville manufacturing site.
How Acquired:
Donated by Don MacRaild, coodinator of the Vanuatu Prevention of Blindness Project
Date Acquired:
28.10.2010
Location:
Archive store room