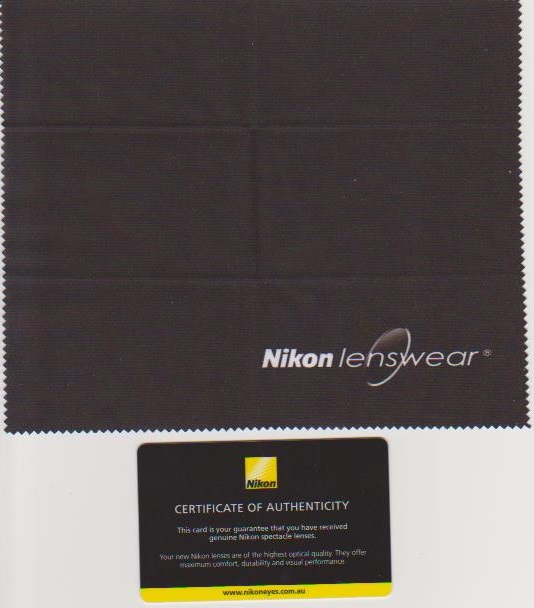 Plastic Wallet containing Lens Cleaning Cloth and Patient Certificate of Authenticity
Category:
Memorabilia and ephemera
Sub-Category:
Advertising, trade and products
Corporation:
Nikon Corporation
Year Of Publication/Manufacture:
C 2017
Publisher/Manufacturer:
Nikon Corporation
Description Of Item:
Clear plastic wallet 98 mm x 61 mm enclosing a black mircofibre cleaning cloth 175 mm x 145 mm with Nikon lenswear printed in white in the bottom right corner and a plastic card 85 mm x 55 mm with yellow and black Nikon logo and Certificate of Authenticity/ Lenswear for visionaries printed in white on one face and a guarantee that genuine Nikon lenses have been provided on the other.
Historical Significance:
A promotional cleaning cloth provided by the manufacturer to be given to the purchaser of Nikon lenses.Nikon Corporation began as a fully integrated optical supplies company in Japan in1917. Its first spectacle lens 'Pointal' was released in 1946 and the company has developed a full range of spectacle lenses since then.
How Acquired:
Donated by ACO Optical Dispensing Laboratory via David Leeming