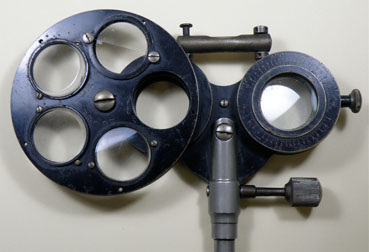 Sub-Category:
Refractor Phoropter Phorometer
Designer/inventor:
Harold Wilson
Year Of Publication/Manufacture:
c 1898
Place Of Publication/Manufacture:
Rochester, New York, USA
Publisher/Manufacturer:
E Kirstein and Sons Co
Description Of Item:
Phorometer, black enamel instrument 183 mm W x 95 mm H to which is fixed by a pin with a milled knob to a polished metal stem 245 mm L for attaching to a floor or wall stand. The instrument has two eyepieces for the right and left eyes one of which has no lens and the other has a rotable Risley (Savage?) prism fixed to it. The Risley prism has a prism dioptre scale on one side and an orientation degree scale on the other. In front of the empty eyepiece is a rotating disc with 5 apertures 29 mm diameter, one of which is empty and the others contain a biprism, a 15 prism dioptre and 10 prism dioptre base out prism when positioned in front of the eye and a high power cylindrical lens marked 10 C. On top of the instrument is a spirit level. There is no adjustment for interpupillary distance nor any provision for inserting of trial lenses. On the back are the words 'THE WILSON PHOROMETER/MANUF'D BY/E KIRSTEIN SONS CO/ROCHESTER N.Y.'
Historical Significance:
A phorometer is an instrument for measuring imbalance of binocular coordination of the two eyes, specifically for measuring heterophoria, the nature of which had been described by von Graefe (1862), Donders (1865) and Stevens (1887) (who proposed the term heterophoria). Binocular imbalance was systematically elucidated by Maddox (1863-1933) in his writings and especially in his book first published in 1898 (Cat 207). The phorometer was devised make measurement of heterophoria easier. This is one of the earliest phorometers. Later, in the 1930s and 1940s, phorometers were incorporated in the front of refractor heads that also held spherical and cylindrical lenses on rotating discs to make refraction quicker than is possible with a trial frame and a trial lens set. A Wilson phorometer is illustrated in a book by LJ Dailey 'Refractive and ophthalmic catechism' published in 1898 (on page 149) (Cat No 781) but this is a different model. The one illustrated in Dailey's book has Maddox rods, that are not included in this version. This version may be an earlier one since it is set up for measurement of heterophoria using the methods of v Graefe and Stevens, not that of Maddox. A Google search for Wilson phorometer found an advertisement for H A Baraclough. a Sydney optician, in the Sydney Morning Herald of June 1 1899, who advertises that he has a Wilson Phorometer. This indicates that the Wilson phorometer was in use in Australia in 1899 soon after it was devised. The one held by the Kett Museum was used in a Victorian optometry practice probably in the early 1900s.
How Acquired:
Donated by Duncan Waite, member of the College
Location:
Archive room. West wall. Unit 3 Drawer 5