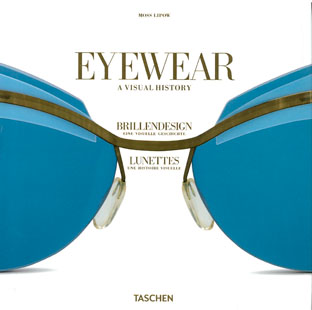 Eyewear. A visual history
Sub-Category:
Hewett collection
Year Of Publication/Manufacture:
2011
Place Of Publication/Manufacture:
Cologne, Germany
Publisher/Manufacturer:
Taschen (Prnted in China)
Description Of Item:
Colour printed dust wrapper, white boards cover, 360 pages, text in German, English and German but with different illustrations for each language section. Profusely illustrated with high quality photographs and other illustrations, mostly in colour. Five chapters: the first glasses Pre 1900, the century of speed 1900-1945, The postwar, Sunglasses boom 1945-1960, Mad for modernism 1960-1970, The age of the licensed brand 1970 -
Historical Significance:
Max Lipow is a New York eyewear designer and collector. The book is very attractively illustrated with hundreds of images. Early glasses are represented (with excellent and unusual examples) but the emphasis is on the second half of the 20th C, and especially sunglasses. Many of the glasses depicted are exotic examples, even outrageous. The text is minimal but this is a great book for browsing.
How Acquired:
Purchased by Kett Museum (Abe books $51)
Condition:
Brand new. Slight defect to dust wrapper
Location:
Nathan Library. Hewett collection