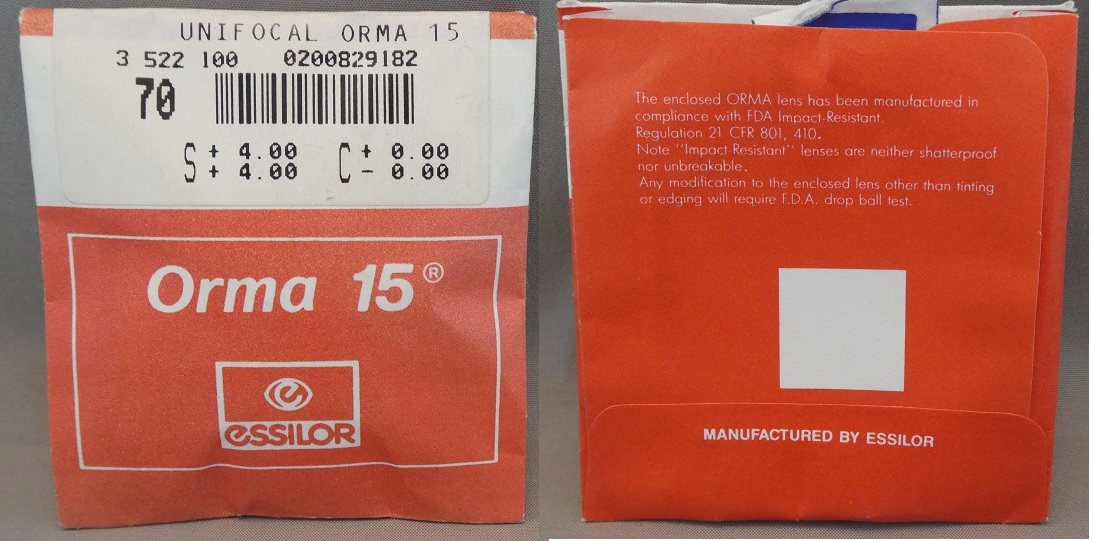 Essilor Resin Spectacle Lens in Envelope
Category:
Spectacles and lenses
Sub-Category:
Spectacle lenses
Year Of Publication/Manufacture:
2000s
Publisher/Manufacturer:
Essilor
Description Of Item:
White envelope 75 mm x 75 mm x10 mm imprinted with red lower two thirds and Orma 15? and an Essilor logo in white .A label is affixed to the top third of the envelope and is imprinted in black with UNIFOCAL ORMA 15/ 70 a bar code and stock number/ S + 4.00 + 4.00 C +0.00 -0.00. The back of the envelope has a statement regarding compliance with FDA requirements and MANUFACTURED BY ESSILOR in white. A white tissue insert with blue borders protects the lens.
Historical Significance:
Lenses were part of old stock kept at the ACO dispensing laboratory.
How Acquired:
Donated by ACO Optical Dispensing Laboratory via David Leeming
Location:
Archive office. East wall shelves unit 3. Drawer 8