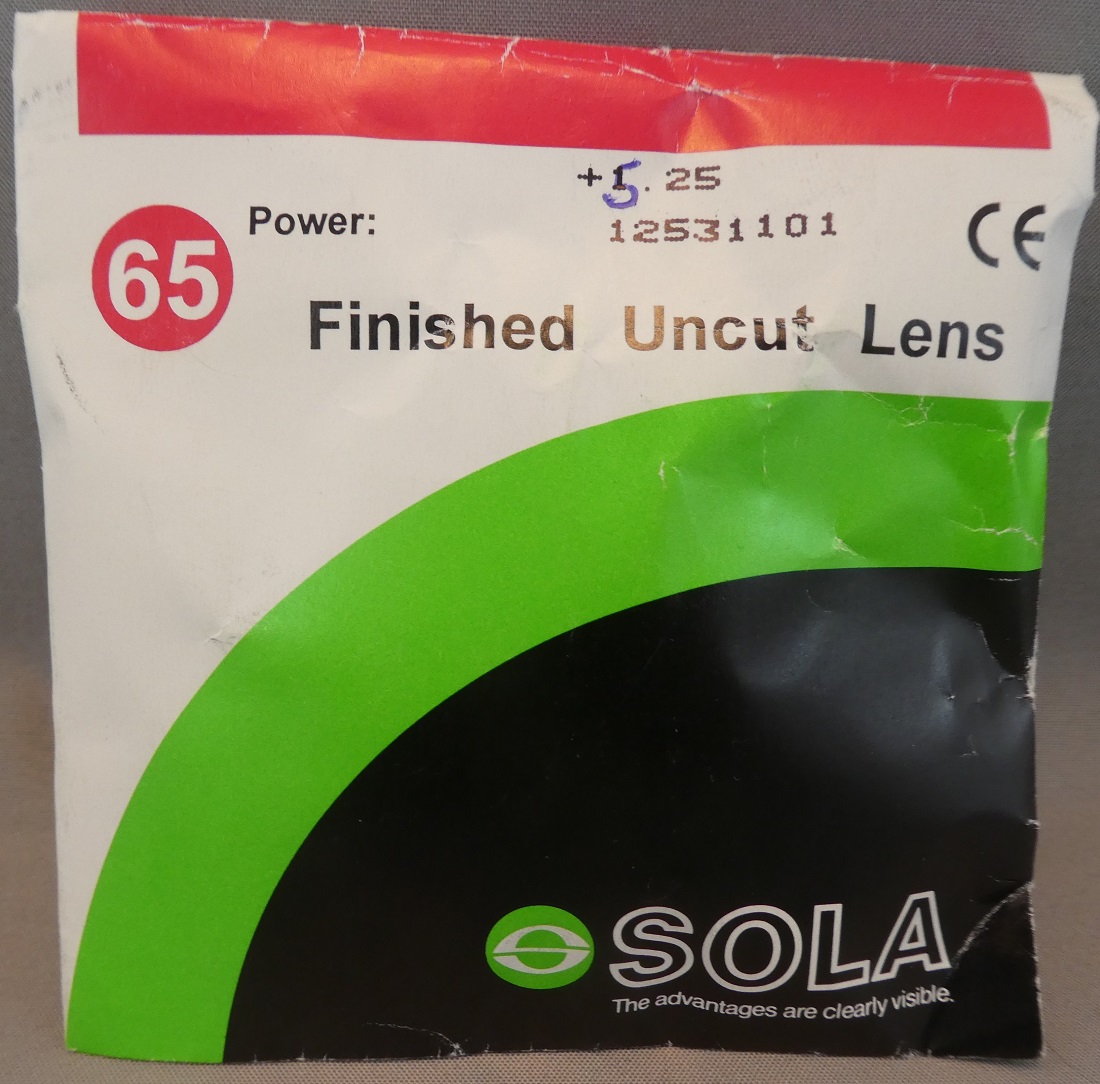 SOLA Resin Spectacle Lens in Envelope
Category:
Spectacles and lenses
Sub-Category:
Spectacle lenses
Year Of Publication/Manufacture:
1990s
Time Period:
1940 to 1999
Place Of Publication/Manufacture:
Taiwan
Publisher/Manufacturer:
Sola
Description Of Item:
White envelope 95 mm x 95 mm x10 mm imprinted with red strip at the top and green crescent beside a black sector in the lower right and 65 white in red circle, Power: +1.25, a batch number, C and Finished Uncut Lens in black. A Sola logo SOLA and 'The advantages are clearly visible' printed in white appears in the bottom right corner. The back of the envelope has a statement regarding compliance with FDA requirements and Made in Taiwan imprinted. The number +1.25 has been altered in blue to read +5.25. The envelope contains a lens of this power.
Historical Significance:
Lenses were part of old stock kept at the ACO dispensing laboratory. The envelope has been re-used to store a different lens.SOLA (Scientific Optical Laboratories Australia) was founded in 1960. Its foundation was driven by the technical genius of Donald Schultz (See Watkins RD Profile of Donald Herbert Schultz Clin Exp Optom 2004; 87: 187-190) who had for some time been interested in the use of CR39 for the manufacture of ophthalmic lenses. SOLA became a highly successful international company for the production of CR39 lenses. CR-39, or allyl diglycol carbonate (ADC) was first used for spectacle lenses by Armorlite Lens Company in California in 1947.
How Acquired:
Donated by ACO Optical Dispensing Laboratory via David Leeming
Location:
Archive office. East wall shelves unit 3. Drawer 8