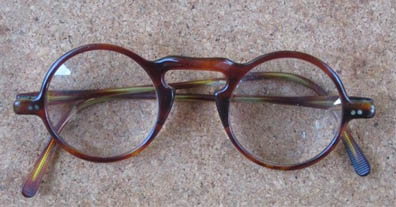 Round eye shell spectacles
Category:
Spectacles and lenses
Sub-Category:
Spectacles (with lenses)
Year Of Publication/Manufacture:
1930s
Time Period:
1900 to 1939
Description Of Item:
Round-eye shell (cellulose nitrate?) spectacle frame in dark imitation tortoiseshell, keyhole bridge, hockey temples, exposed pin joint rivets. No frame designation but measured size is 38/23. Glazed with glass single vision lenses R and L approx +5.00 D sph. Over all dimensions 120 x 40 mm.
Historical Significance:
Spectacles of this type were commonly worn in the 1930s and 1940s, especially in the UK
How Acquired:
Donated by Don MacRaild. Project coordinator Vanuatu Prevention of Blindness Project
Condition:
Good except for slight defect in right temple
Location:
Archive Office. Spectacles cabinet Drawer 13