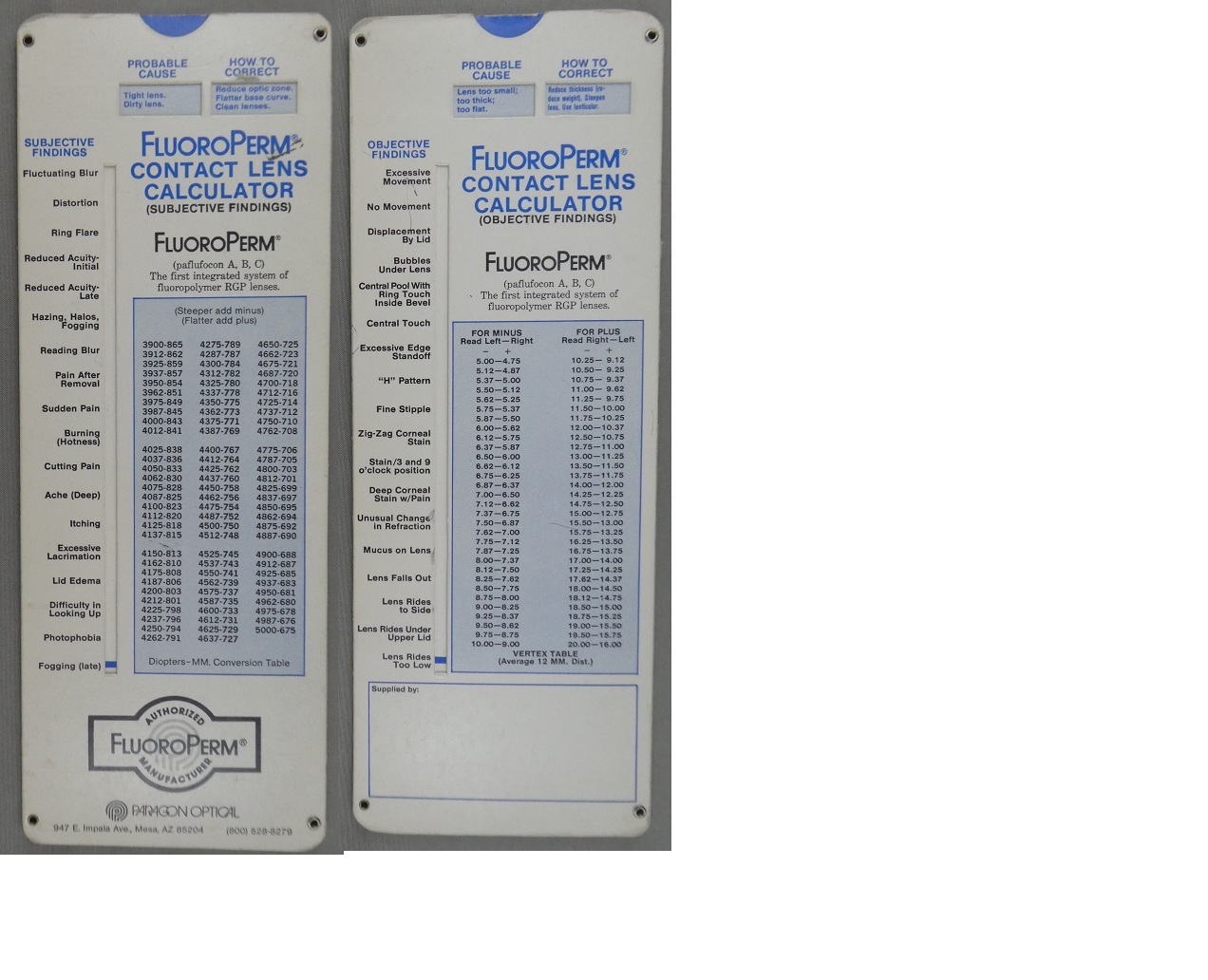 Fluoroperm Contact Lens Calculator
Sub-Category:
Contact lens equipment
Corporation:
Paragon Optical
Year Of Publication/Manufacture:
1990s
Time Period:
1940 to 1999
Place Of Publication/Manufacture:
Mesa, Arizona, USA
Publisher/Manufacturer:
Paragon Optical
Description Of Item:
Two sheets of heavy card glued and secured by eyelets at each corner forming a sleeve with internal slide. Two windows at the top of each face are headed Probable Cause and How to correct, a long vertical window labelled Subjective Findings on one face and Objective findings on the other face has a blue indicator line which can be moved with the slide to correspond with any of 18 possible observations or symptoms regarding contact lens fitting. The upper windows provide the possible action required. The 'Subjective Findings 'face has a Dioptre to millimetre conversion table, the 'Objective Findings 'face a power conversion table for a vertex distance of 12 millimetres.
Historical Significance:
Paragon Visual Sciences Inc.is an Arizona, USA based manufacturer of specialty rigid contact lenses and orthokeratology lenses and gas permeable materials. It was acquired by Coopervision in 2017. Lens materials produced include the Fluoroperm series: 151, 30, 60 and 92 where the number indicates the Dk value, Optacryl 60, the Paragon series: HDS, HDS 100 and Thin, Paraperm O2 and Paraperm EW.
How Acquired:
Donated by Colin Bates
Location:
Archive office. Pamphlet and ephemera filing cabinet. Drawer 10