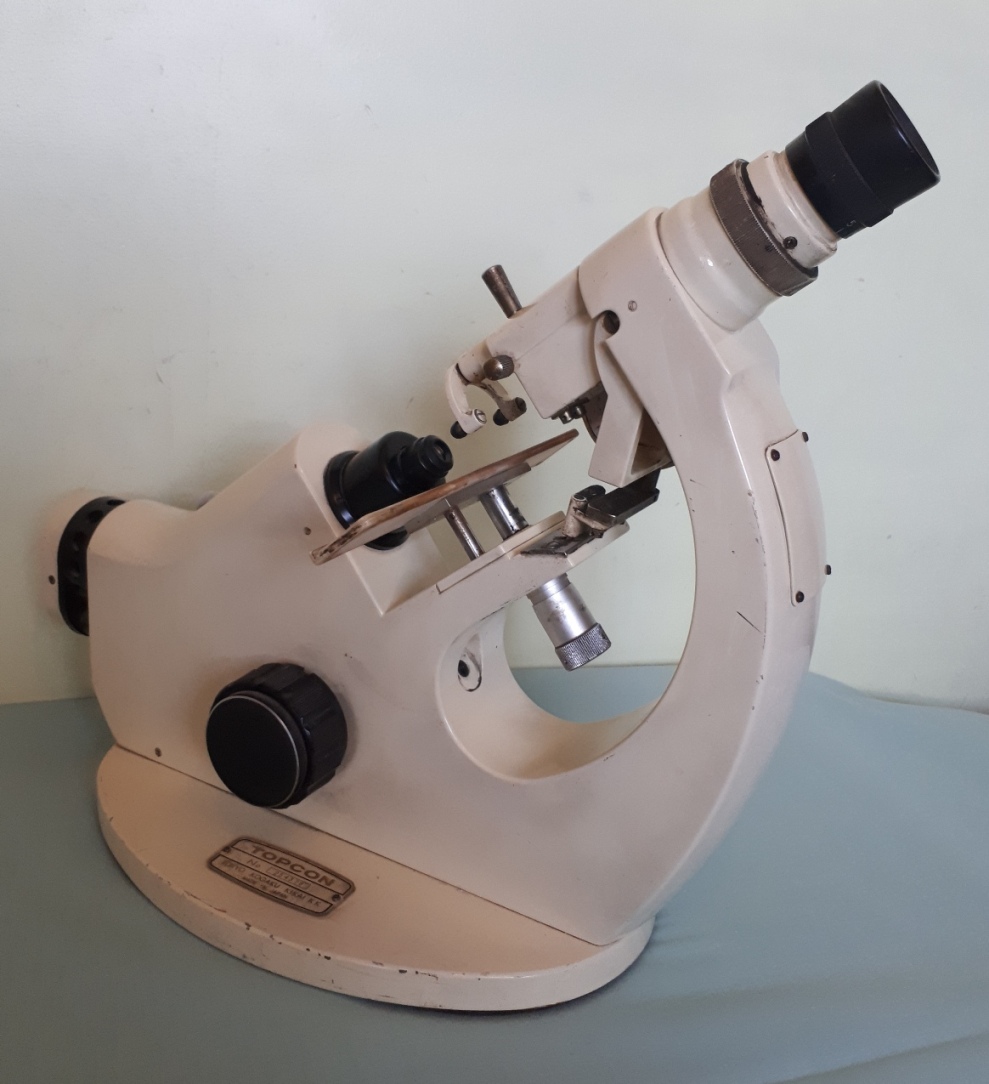 Sub-Category:
Vertometer, lensometer, focimeter
Corporation:
Tokyo Kogaku Kikai K.K.
Year Of Publication/Manufacture:
1960s
Time Period:
1940 to 1999
Place Of Publication/Manufacture:
Tokyo, Japan
Publisher/Manufacturer:
Tokyo Kogaku Kikai K. K.
Description Of Item:
Topcon vertometer (focimeter, lensometer), Serial No 254378. Cream enamel finish with black plastic and chrome fittings. Metal plaque attached: 'TOPCON/ No 254378/ TOKYO KOGAKU KIKAI K.K./ MADE IN JAPAN'. Electric lead and plug removed. Size H: 320mm x W: 370mm x D: 175mm.
Historical Significance:
The principle of the optical design of an instrument for measuring lens power was established by Snellen in 1876 but he used it as a phakometer. Troppmann introduced the first focimeter in 1912 in which dioptric power could be read off a scale. Previously opticians had used the lens curvature measure (spherometer) and lens neutralisation using lenses from a trial case. Tokyo Kogaku, was the precursor company to Topcon, a manufacturer of ophthalmic instruments. Tokyo Kogaku translates as Tokyo Optical Company, It was previously solely a manufacturer of photographic equipment. Tokyo Kogaku was founded in 1932. It resulted from the merger in September 1932 of the measurement instruments section of Seik sha (the manufacturing branch of Hattori Tokei-ten) and Katsuma K gaku Kikai Seisakusho. It began manufacturing ophthalmic instruments in 1947 and produced its first vertometer in the same year. It began using the Topcon brand name in 1953.
How Acquired:
Donated by Pamela Sutton
Date Acquired:
August 2020
Condition:
Good but power cable removed
Location:
Archived journals room