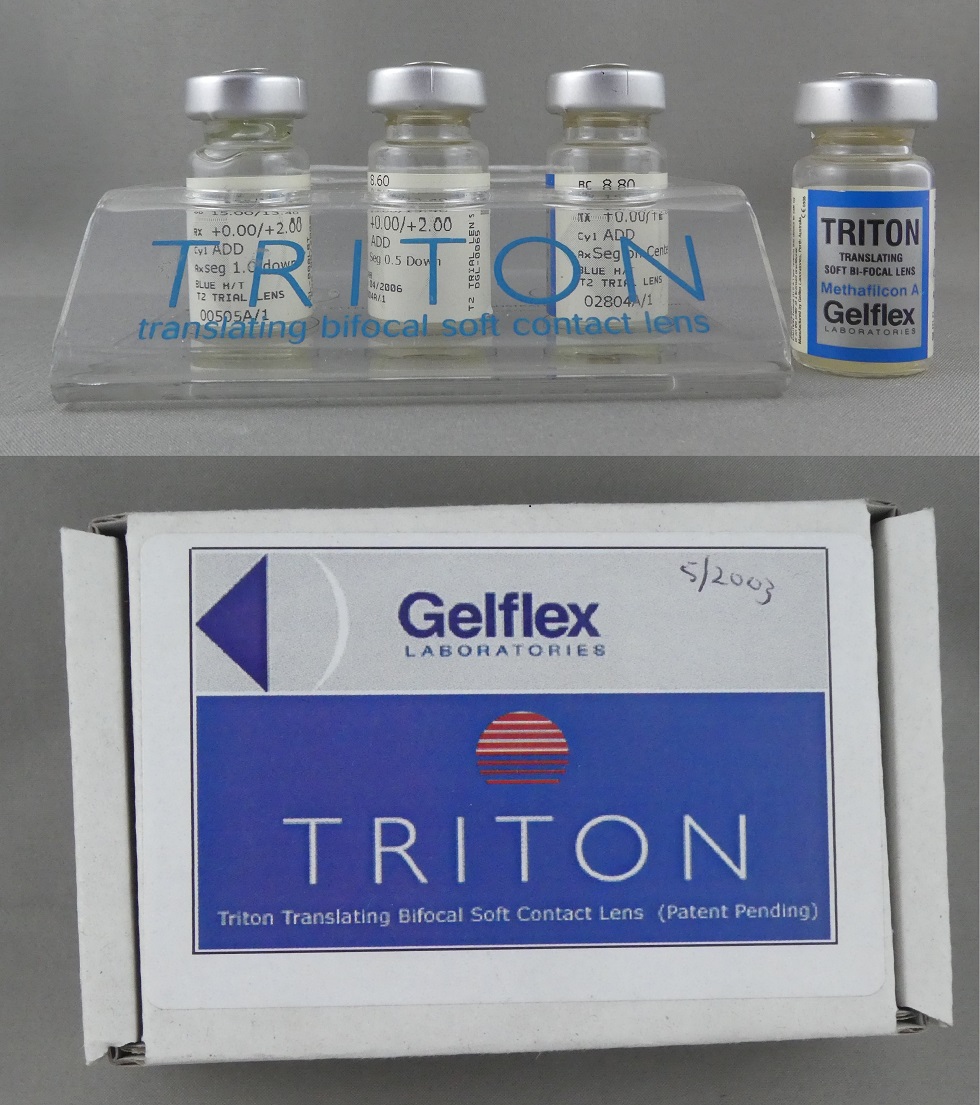 Gelflex Triton Translating Bifocal Soft Contact Lens Trial Set and Stand
Category:
Spectacles and lenses
Sub-Category:
Contact lenses and accessories
Corporation:
Gelflex Laboratories
Year Of Publication/Manufacture:
2003
Place Of Publication/Manufacture:
Perth, Western Australia.
Publisher/Manufacturer:
Gelflex Laboratories
Description Of Item:
Cardboard box 116 mm x 79 mm x 28 mm with grey and blue label imprinted Gelflex Laboratories, Triton, Triton Translating Bifocal Soft Contact Lens (Patent Pending) and red striped circular logo affixed. 5/2003 is hand-written in black in the top right corner of the label and V599 on the rear face. Four trial contact lenses in vials with aluminium seals are stored in a twelve section cardboard grid. A plastic covered instruction card is included. The stand is of Perspex sheet 100 mm wide folded to make a base 110 mm x 100 mm with six circles with lens parameters and colours and a Gelflex logo, GELFLEX LABORATORIES AUSTRALIA
This email address is being protected from spambots. You need JavaScript enabled to view it.
imprinted in black, an angled front panel with decal imprinted TRITON translating bifocal soft contact lens in blue and an upper section 70 mm x 100 mm with six 22 mm diameter apertures aligned with the circles imprinted on the base. Temporary storage Box A
Historical Significance:
The Triton soft contact lens design was developed by Don Ezekiel of Gelflex Laboratories as an alternative to the simultaneous vision designs. It was an adaptation of the translating design used for rigid contact lenses to the soft lens materials. The trade mark for the lens was filed with the US patent office in Feb. 2002 and listed as 'abandoned' in Feb. 2003. The lens is not listed on the Gelflex website in 2020.Gelflex Laboratories is an independent contact lens manufacturer in Perth, Western Australia. Originally named Western Australian Contact Lens Manufacturing it was formed in 1971 by contact lens pioneer and innovator, Don Ezekiel. It had a laboratory in Dandenong, Victoria in the 1990s.
How Acquired:
Donated by Colin Bates
Location:
Archive Room. East wall Unit 5 Cupboard