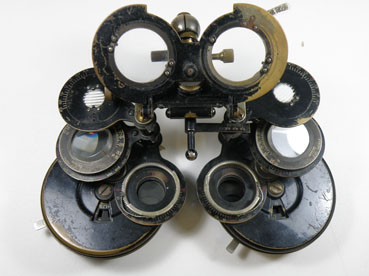 DeZeng Phoro-Optometer (refractor)
Sub-Category:
Refractor Phoropter Phorometer
Designer/inventor:
DeZeng
Year Of Publication/Manufacture:
c 1922
Time Period:
1900 to 1939
Place Of Publication/Manufacture:
Camden, New Jersey,USA
Publisher/Manufacturer:
Standard Co
Description Of Item:
Phoropter (Refractor), ophthalmic instrument for the measurement of refractive error and binocular function comprising two circular black enamel cases each holding four rotating discs of positive and negative spherical lenses connected to a central stem with adjusting screws for levelling and interpupillary distance. The central stem is designed for attachment to a floor or wall stand. Attached to the front are: (1) a pair of lens clips for supplementary lenses that are rotatable for cylindrical lenses, (2) a pair of Risley prisms, (3) a pair of Maddox rods and (4) a Stevens' phorometer. It is engraved on the back MADE IN USA PAT'D 7-18-1922 and on the front DE ZENG STANDARD CO / CAMDEN N J MAKERS.
Historical Significance:
This is a very early refractor designed in 1922. The designer, Henri DeZeng, was a prolific inventor of many eye and ear, nose and throat instruments but his first love was the ophthalmoscope. This is reflected in his many patents. He made the first practical electric ophthalmoscope, the first with a non-corrosive mirror, the first with illuminated lens indicating numbers and the first commercially produced ophthalmoscope with a battery contained in the handle. The list goes on, including being the first to use filters, a rheostat and standard commercial lamps. The DeZeng Company became part of American Optical in the early 1920s: Henry ended his career with a flourish, producing the Professional and the wonderfully named Knickerbocker ophthalmoscopes! The Museum holds a phorometer made by the American Optical Company (Cat # 1053) under a patent held by Henry L DeZeng. It also holds a DeZeng ophthalmoscope (Cat No 907) and a Wellsworth DeZeng retinoscope. (Cat no 908).
Condition:
Good but black enamel worn by use
Location:
Archive room. West wall. Unit 3 Drawer 5