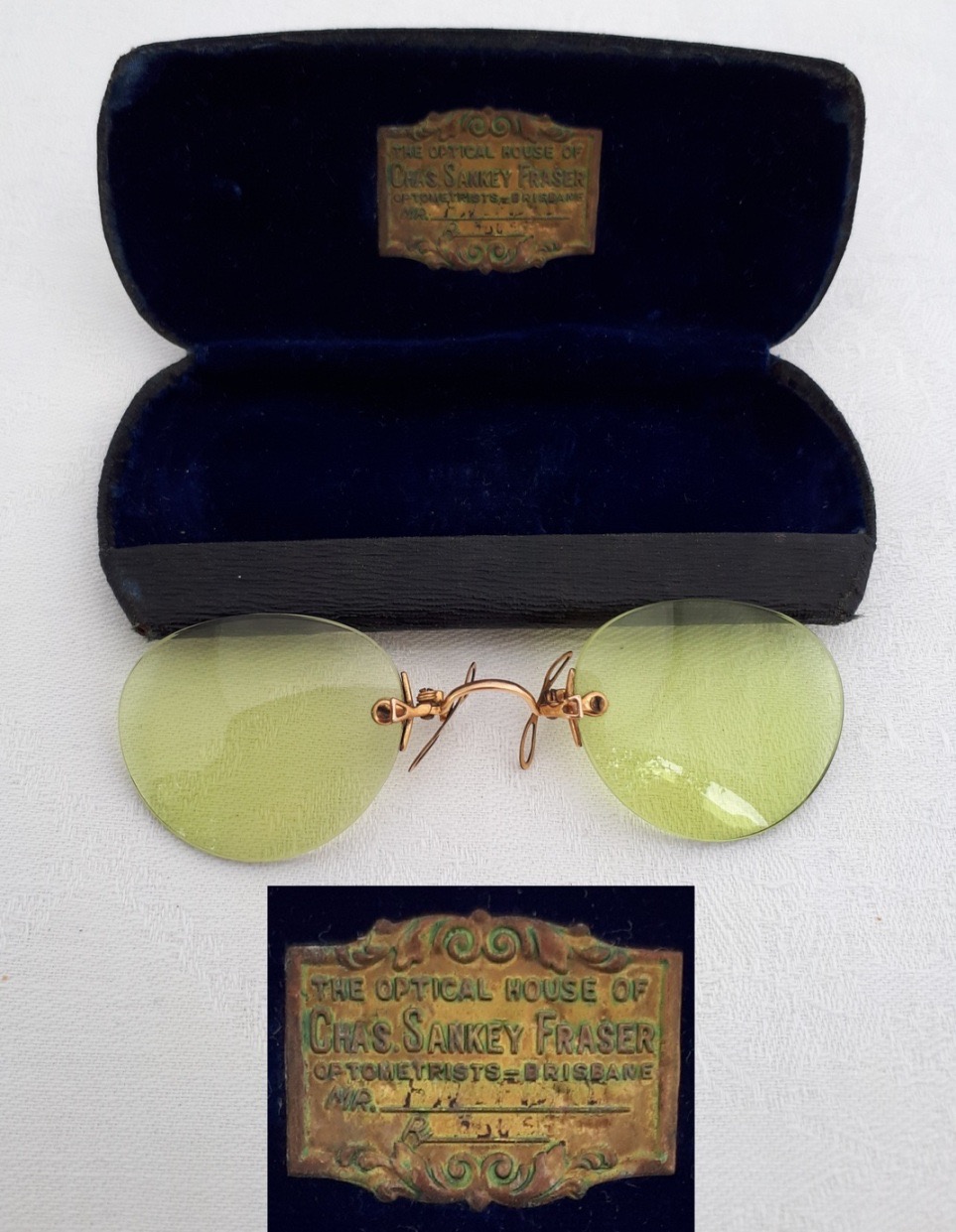 Rimless green lens Stoco pince-nez in case for Chas Sankey Fraser
Category:
Spectacles and lenses
Corporation:
Standard Optical Company
Year Of Publication/Manufacture:
early 20th century
Time Period:
1900 to 1939
Place Of Publication/Manufacture:
Geneva, New York, USA
Publisher/Manufacturer:
Standard Optical Company
Description Of Item:
Rimless green lens Stoco pince-nez in snap case for Charles Sankey Fraser. Gold frame impressed behind bridge 'STOCO 1/10 12'. Lenses +0.50 DS R&L. Black snap case lined with purple velvet. Metal plaque inside lid impressed 'THE OPTICAL HOUSE OF/ CHAS SANKEY FRASER/ OPTOMETRISTS-BRISBANE'. Traces only of ink of owner's name remain on label. Specs 85 x 31 mm, case: 109 x 46 x 12 mm.
Historical Significance:
Standard Optical Company (Stoco) was a manufacturer and supplier of optical instruments and dispensing items. Copies of a catalogue of spectacle making equipment are held (Cat Nos. 137, 3235 ). The Geneva Optical Co. was organised in 1873 by Andrew Smith. Geneva Optical produced lenses which were sold through Standard Optical. The combined companies later became known as Shuron Optical which was located in Geneva, NY, until 1963. Charles Sankey Fraser (1878-1953) was foundation President of the Institute of Ophthalmic Opticians of Queensland . See details at #2784.This item and another ,#4044, were forwarded by the British Optical Association Museum to the Kett Optometry Museum, with the consent of the donor, as the items were deemed to be of more interest to an Australian collection. They are possibly associated with time in Australia c1903-05 of Charles Macaskie (who later returned to Europe). He was a jackaroo in Queensland and later bought land there.
How Acquired:
Donated by David Cole-Adams via British Optical Association Museum
Condition:
Specs: excellent, Case: good
Location:
Archive Office. Cabinet One Drawer 1