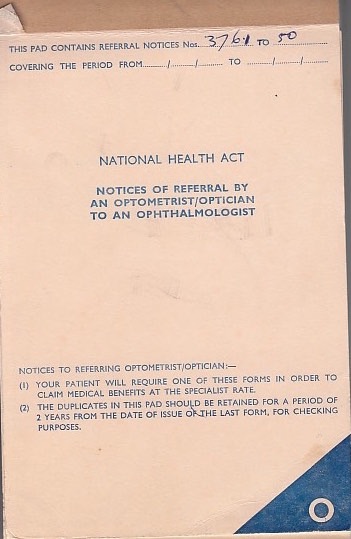 Optometrist to Ophthalmologist Referral Form Pad
Category:
Memorabilia and ephemera
Sub-Category:
Forms e.g. application forms
Government body:
Department of Health
Year Of Publication/Manufacture:
c 1970
Time Period:
1940 to 1999
Place Of Publication/Manufacture:
Fortitude Valley, Queensland
Publisher/Manufacturer:
Lamson Paragon Limited
Description Of Item:
Buff coloured covers imprinted in blue 'National Health Act/Notices of referral by an Optometrist/Optician to an Ophthalmologist' containing 50 duplicate forms. Pad dimensions 118 mm x 187 mm x 10 mm. Five forms have been used, the duplicate of each remains bound in the pad. A separate re-order form is included.
Historical Significance:
Optometrists gained the right to refer patients directly to ophthalmologists in 1970. Prior to this a patient had to be referred by a medical practitioner in order to obtain medical benefits rebates for an ophthalmologist's examination. Used in VCO Clinic for student referrals to ophthalmologists when Ian Bailey was Clinic Director. Used forms signed by Ian Bailey.
How Acquired:
Donated by Ian Bailey
Location:
Archive office. Pamphlet and ephemera filing cabinet. Drawer 10