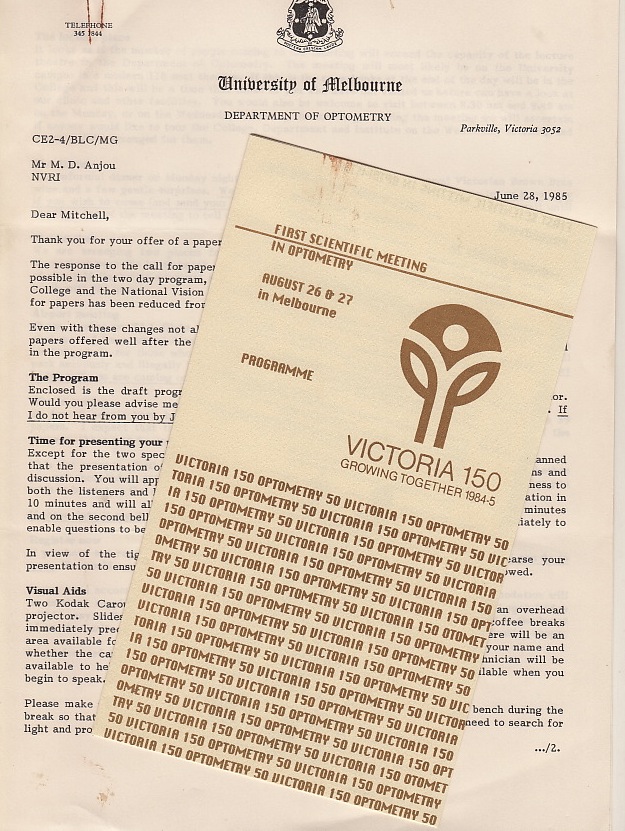 Program and related letter for the first Scientific Meeting in Optometry 1985
Sub-Category:
Conference programs, abstracts
Institution:
Victorian College of Optometry
Year Of Publication/Manufacture:
1985
Time Period:
1940 to 1999
Place Of Publication/Manufacture:
Melbourne
Publisher/Manufacturer:
Victorian College of Optometry
Description Of Item:
Program of the First Scientific Meeting in Optometry, two fold A4 leaflet, cream paper with brown print, that was held in Melbourne August 26 and 27, 1985 (2 copies) and a pro forma letter to speakers (this copy addressed to Mr Mitchell Anjou) dated June 28 1985, headed University of Melbourne, Department of Optometry and personally signed by Barry Cole, Professor of Optometry. The proposed program is attached to the letter. The front cover of the program leaflet carries a logo 'Victoria 150 ', which together with graphic design below the logo, draws to attention that the event is a part of the celebration of the 150th anniversary of the State of Victoria.
Historical Significance:
Optometry courses moved into universities in the mid 20th century. (University of NSW 1954, University of Melbourne 1961, Queensland University of Technology 1981). This brought the expectation that the optometry departments and their academic staff would undertake research and also conferred the right to offer higher degree studies by research, including a PhD degree. By the mid 1980s each of three optometry schools in Australia had lively research programs and quite a number of graduate students enrolled for higher degrees. In the profession generally continuing education was also gathering momentum, but these conferences were not the venue for gatherings of academics and their graduate students to air their recent and current research. Professor Barry Cole proposed that the schools should have their own national meeting to share research results and provide an opportunity for the academic optometry community to meet and get to know each other. The first was held at the University of Melbourne in 1985 and were subsequently held every 18 months or two years. Later the scope of the meetings was expanded by having a concurrent meeting on optometric education, known as the Educators Meeting. These meetings continued for some 25 years but discontinued as international vision and optometry meetings became more accessible, more numerous and attractive. The national Scientific and Educators Meeting was revived in 2018, with the 15th Scientific and 9th Educators Meeting in Optometry being held in Melbourne, jointly hosted by Deakin University and the University of Melbourne. It was held on April 5 and 6 2018.
How Acquired:
Donated by Mitchell Anjou, Fellow of the College
Location:
Archive office. Pamphlet and ephemera filing cabinet. Drawer 8