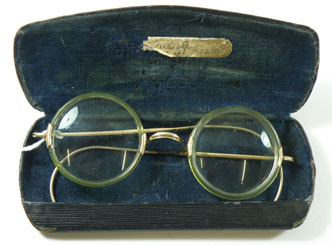 Gold and shell round eye spectacles with case
Category:
Spectacles and lenses
Sub-Category:
Spectacles (with lenses)
Year Of Publication/Manufacture:
c1920
Time Period:
1900 to 1939
Description Of Item:
Round eye spectacles. crystal (discoloured) shell eye rims fitted to gold metal saddle bridge and gold curl temples. Inside L temple stamped 1/20 M. Glazed R and L with approx -6 D sph glass lenses with light blue tint. Contained in a defective black metal snap case with original owners name label (illegible) inside lid. Frame size 38/22, overall size 110 x 40 mm, case 125 x 50 mm.
How Acquired:
Donated by Donald MacRaild. Project coordinator Vanuatu Prevention of Blindness Project
Condition:
Fair. Shell discoloured, R rim broken (with modern repair) and defective case
Location:
Archive Office. Spectacles cabinet Drawer 13