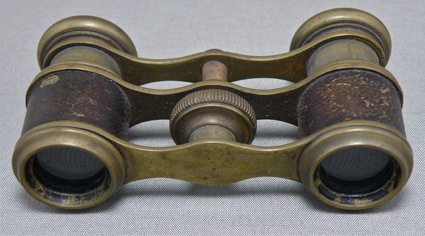 Small brass opera glasses with leather covered barrels
Category:
Spectacles and lenses
Sub-Category:
Telescopes, binoculars, opera glasses
Year Of Publication/Manufacture:
c1880
Place Of Publication/Manufacture:
Europe
Description Of Item:
Small pair of brass opera glasses with burgundy leather on barrels. Fixed pupillary distance. Black paint worn from eyepiece and objective rims. Size: 85 x 38 x 25 mm.
How Acquired:
Donated by Michael Aitken
Location:
Archive Office. Cabinet One Drawer 4