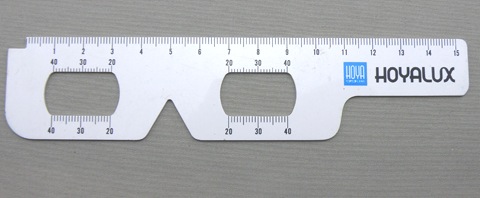 Hoyalux PD (Pupillary Distance) Rule
Sub-Category:
PD ruler, pupillometer
Time Period:
1940 to 1999
Publisher/Manufacturer:
Hoya Lens
Description Of Item:
White flat flexible plastic rule 160 mm x 35 mm with a thinner (20 mm) portion 45 mm long at one end with apertures for viewing the eyes and a triangular cut-out on the lower edge for location of the bridge of the nose. The top edge is marked with gradations in millimetres from 0 to 150 and each aperture has millimetre gradations from 20 to 40 measured from the bridge cut-out on both faces. A Hoya lens logo in blue and the word Hoyalux in black are printed on the thinner portion of the rule.
Historical Significance:
A variation on the PD rule adapted to allow measurement of monocular PDs.
How Acquired:
Donated by Robert Kaye
Location:
Archive office. East wall shelves unit 3. Drawer 10