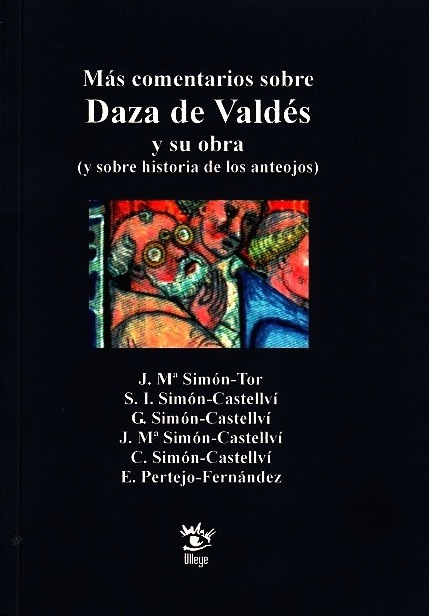 Mas comentarios sobre Daza de Valdes y su obra y sobre historia de los anteojos(More comments on Daza de Valdes and his work and on the history of glasses)
Editor:
SIMON, Jose M? J M?; SIM?N- TOR, SIM?N- CASTELLV? S I; SIM?N- CASTELLV? G;SIM?N- CASTELLV? J M?; SIM?N- CASTELLV?, and PERTEJO -FERN?NDEZ E.
Year Of Publication/Manufacture:
2016
Place Of Publication/Manufacture:
Xativa, Valencia, Spain
Publisher/Manufacturer:
Ulleye (Printed by CG Online-Paterna-Valancia)
Description Of Item:
Booklet, paperback with colour illustrated cover, A5 size, 50 pages plus one page advertising the publisher's other books, 22 black and white illustrations, bibliography. Text in Spanish.
Historical Significance:
Benito Daza de Valdes (1591-1634) was a Friar and an officer of the Spanish Inquisition and also the author of what is arguably the oldest optometry textbook. His book was originally written in Spanish and published in 1623 under the title Uso de los Anteojos. See Cat No 2014 for the book as republished in 2004 with a facsimile of the original, a translation into modern Spanish (made in 1923) and an English translation of the 1923 Spanish translation.The first author of this booklet is an ophthalmologist practising in Barcelona.The booklet reports further analytic research of the life and writings of de Valdes. It is a successor to a book published by the same publisher, entitled DAZA DE VALD?S (1591-1634: Pionero de la ?ptica Fisiologica Un cient?fico olvidado del Siglo de Oro (Pioneer of Physiological Optics. A forgotten scientist of the Golden Age) in 2 volumes by Dr Javier Imeez Benito.The publisher, Ulleye, was founded in 1997 to support the training the training of professionals in the field of vision, including both optometrists and ophthalmologists. It organises conferences and publishes text books on optometry and ophthalmology.
How Acquired:
Donated by Dr Jose Ma Simon (author)
Location:
Archive office. Pamphlet and ephemera filing cabinet. Drawer 8