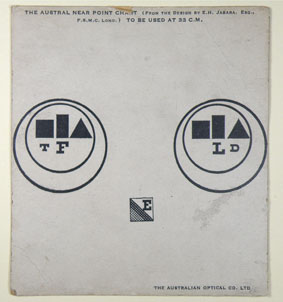 The Austral Near point Chart
Sub-Category:
Reading card, tests of near vision
Designer/inventor:
JABARA, Ernest H
Year Of Publication/Manufacture:
c 1935
Time Period:
1940 to 1999
Place Of Publication/Manufacture:
Melbourne ?
Publisher/Manufacturer:
The Australian Optical Co Ltd
Description Of Item:
Near vision test card, off-white card, 115 x 129 mm, with fusion targets for testing suppression and stereopsis on one side and a tangent prism dioptre scale and red arrow and a near cross cylinder test target on the other side. Imprinted at the top on one side 'THE AUSTRAL NEAR POINT CHART (FROM THE DESIGN BY E. H. JABARA ESQ FSMC LOND) TO BE USED A 33 CM. and at the bottom of both sides THE AUSTRALIAN OPTICAL CO LTD
Historical Significance:
This near test card was designed for use mounted on the near point rod of a refractor. It tested for stereopsis and suppression and could be used for the near cross cylinder test. It s also designed to measure near horizontal phoria, presumably by vertical dissociation using vertical prism. It was in wide spread use in Melbourne in the in the mid 20th C and known as the TED chart. This card states the chart was designed by Melbourne optometrist Ernest Jabara. Ernest Jabara FSMC (1897-1981) was one of the 5 people who signed the Articles of Association of the Australian College of optometry in 1939. He was a foundation member of the College Council and first Vice President (and Chairman) 1939 to 1942. A slightly different version of the chart is at Cat No 1708.
Location:
Archive office. Pamphlet and ephemera filing cabinet. Drawer 5