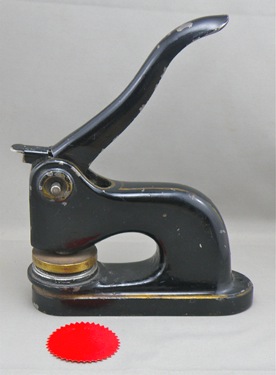 Seal press for the Victorian College of Optometry
Category:
Memorabilia and ephemera
Year Of Publication/Manufacture:
c 1960
Time Period:
1940 to 1999
Description Of Item:
Cast metal seal press, black enamelled, standing 200 mm high with handle released, with a box of red seals. The impress on the seal has the coat of arms of the College at the centre with the words VICTORIAN COLLEGE OF OPTOMETRY around the perimeter
Historical Significance:
This seal machine may have been bought in 1960 when the Australian College of Optometry, founded under that name in 1940, changed its name. to the Victorian College of Optometry The College reverted to its original name in 2009. Alternatively it made be the orgibal 1940 seal press the impress plates of whic were cahnged in 1960.
How Acquired:
Donated by Australian College of Optometry
Location:
Archive room. West wall. Unit 3 Drawer 3