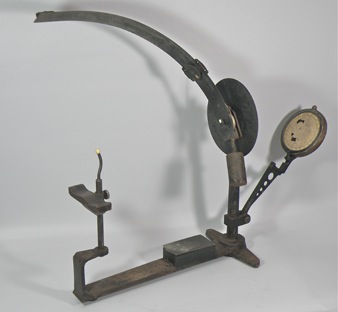 Sub-Category:
Perimeter, visual field analyser
Designer/inventor:
Malcolm MacDonald McHardy
Year Of Publication/Manufacture:
c1890
Description Of Item:
McHardy type self registering perimeter of cast iron, brass and wood. Cast iron base supports one upright with wooden double chin rest at adjustable height with a white knob to rest against the cheek to steady the eye. The main upright supports the rotatable arc along which the target can travel. A linked brass mechanism with a pricker pin records the results on a paper chart clipped to a circular wooden frame. L: 550 W: 225 H: 700 mm.
Historical Significance:
An arc perimeter is used to measure the angle of extent of the patient's visual field by moving targets along the arc until they can no longer be seen and recording the result. Albrecht Von Graefe introduced perimetry to clinical practice in 1855 and Hermann Aubert and Richard Forster introduced the arc perimeter a few years later. Prof Malcolm MacDonald McHardy first exhibited his improved self-registering perimeter in 1882. McHardy developed his design by including the best features of existing perimeters of Forster, Aubert, Carter and Stevens. In Ophthalmic Review, 1882, it is recorded that 'Prof McHardy hoped that the instrument he exhibited would prove superior to any one of the instruments mentioned, but did not claim to have originated any important and useful novelties in the perimeter, which he had designed with a view to reproducing every one of the many good features of the other instruments, whilst striving to minimise the defects which experience had demonstrated therein.' See also: Ophth. Review- Vol. 1. No 5. March, 1882
How Acquired:
Purchased by Kett Optometry Museum
Condition:
Sound, complete but much surface decay
Location:
Archive room. East wall