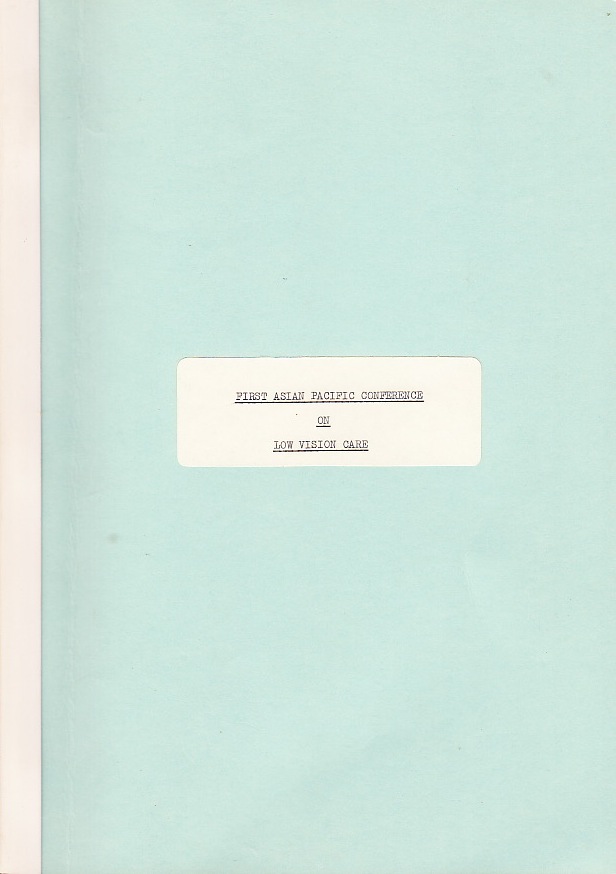 Lecture manual. First Asian Pacific Conference on low vision care
Sub-Category:
Lecture notes, student notes
Author:
BAILEY Ian L, JOHNSTON Alan W
Year Of Publication/Manufacture:
1979
Time Period:
1940 to 1999
Description Of Item:
Lecture manual for a seven session 5-hour conference on low vision care held in Singapore on Tuesday May 22 and 23 1979 in the Jurong Room, Shangri-La Hotel as part of the conjoint 3rd Australian/International Optometrical Congress and 2nd Asian Pacific Optometric Congress, A4 card pale blue cover with typewritten label affixed in the centre reading 'First Asian Pacific Conference on Low Vision Care', bound by white plastic clip along left hand edge, 22 pages of photocopied typescript including flow chars and tables. The presenters were Ian L Bailey and Alan W Johnston.
Historical Significance:
Low vision care had its origins with the advent of various optical magnifying devices beginning in the 1920s that were made by Zeiss and a little later others designed by USA optometrist William Feinbloom in the 1930s. He set up a specialist low vision care optometric practice at that time and wrote several important papers. Australian optometrist Joseph Lederer designed the Lederer lens set in 1954, which attracted great interest as an aid for those with low vision. The British optical firm Keeler Ltd made a comprehensive set of low vision aids in 1955. British optometrist Normal Bier published a book on low vision in 1960. Low vision care gained great impetus with the setting up of multidisciplinary low vision clinics, the most of important of which in Australia was the Kooyong Low Vision Clinic founded in 1972 by the Association for the Blind in co-operation with the Australian College of Optometry and the Department of Ophthalmology in the University of Melbourne. This clinic served as an international model. Ian Bailey, one of the authors of this lecture manual, was the founding and leading optometrist in the this clinic. This manual reflects the novel methods of providing low vision care in a multi-disciplinary setting that were developed through research and experience working in the Kooyong Low Vision Clinic by Bailey and a little later by Alan Johnston and Jan Lovie.
How Acquired:
Donated by Ian Bailey, honorary life member of the College
Location:
Archive office. Pamphlet and ephemera filing cabinet. Drawer 8