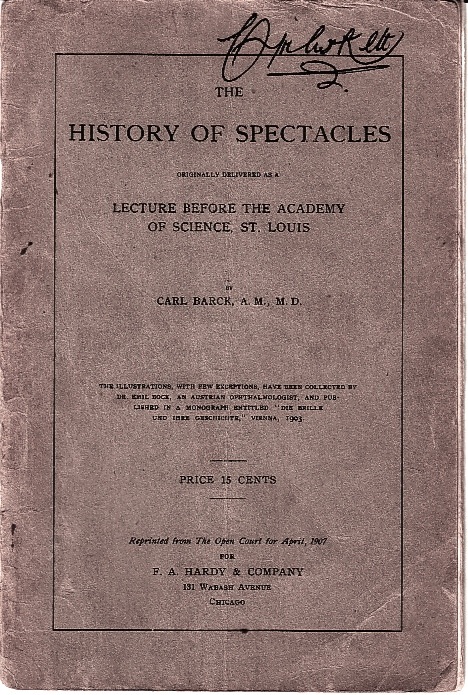 The history of spectacles
Year Of Publication/Manufacture:
1907
Edition:
Reprinted from The Open Court
Time Period:
1900 to 1939
Place Of Publication/Manufacture:
Chicago, Illinois, USA
Publisher/Manufacturer:
F. A. Hardy and Company
Description Of Item:
Light brown printed paper wrapper, 235 x 155 mm, 21 pages centre stapled, black and white illustrations throughout text. Ink signature of Cyril W. Kett at top of front cover
Historical Significance:
This booklet publishes a lecture given to the Academy of Science, St Louis. It was first published in The Open Court for April 1907. Most of the illustrations were collected by Dr Emil Boak, an Austrian ophthalmologist and were originally published in a monograph 'Die Brille und ihre Geschichte' Vienna, 1903.The monograph is well written and well informed. It puts aside the question whether glasses were first invented in China or Mongolia, briefly notes the paucity of evidence of the use of glasses or a magnifying lenses before the 13th century. The author notes that Bacon spoke of glasses in 1276 and the author also quotes the sermon given in 1305 in Pisa (?) that alluded to glasses and suggested they were invented 20 years earlier. The illustrations are of considerable interest but date from the 15th century. Of particular interest is the illustration on page 19 which shows 17th century coins that depict spectacles.
How Acquired:
Donated by Cyril W Kett
Condition:
Fair. Light vertical crease, small tears and light water stain. Pages 9 to 12 detached from staples
Location:
Archive office. Pamphlet and ephemera filing cabinet. Drawer 8