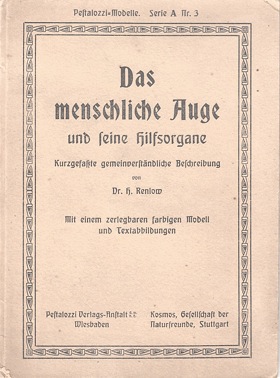 Das menschliche Auge und feine fjilfsorgane (The human eye and fine organs)
Sub-Category:
Significant book (Aitken collection)
Year Of Publication/Manufacture:
Undated c 1890
Place Of Publication/Manufacture:
Weisbaden, Germany
Publisher/Manufacturer:
Pestalozzi Verlag
Description Of Item:
Printed mid-brown card covers, 265 x 190 mm, stapled binding, 16 pages of German language text in 32 numbered columns, five black and white drawings in text. The last plate is a multi-layered colour printed set of drawings hinged at the top so each layer can be lifted up to reveal the anatomy of the eye (and nose) at progressively deeper layers.
Historical Significance:
This booklet is undated but there was a later English edition, also undated, which booksellers date as 1896. The English edition has an introduction by the esteemed London optician John Browning. He was famed for his book on sight-testing first published in 1883 and had numerous editions to 1899. The English edition of this book by Dr Renlow states Browning was the foundation president of the British Optical Association, which was in 1895. This German Edition precedes the English edition and can be dated as about 1890.Pestalozzi Verlag was a picture book publisher founded in 1856 by Gerson Lowensohn (1817-1871) in Furth. It flourished under the founder and his sons: in 1894, the publishing program included over 700 titles in up to ten languages. It was acquired by the Danish Egmont Medienholding in 1998 after falling sales.
How Acquired:
Donated by Michael Aitken, honorary archivist
Condition:
Very good but FRAGILE. Handle with care
Location:
Archive office. Pamphlet and ephemera filing cabinet. Drawer 8