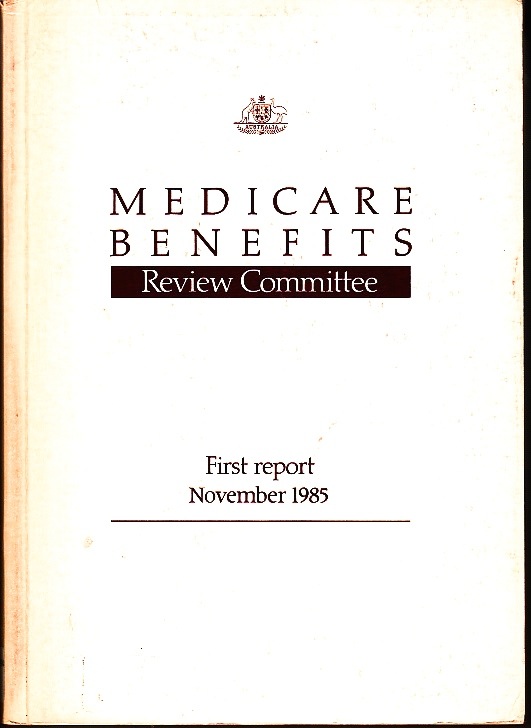 First and Second Reports of the Medicare Review Committee (2 vols)
Sub-Category:
Published report
Committee:
Medicare Benefits Review Committee
Year Of Publication/Manufacture:
1985 and 1986
Time Period:
1940 to 1999
Place Of Publication/Manufacture:
Canberra, ACT
Publisher/Manufacturer:
Australian Government Publishing Service
Description Of Item:
First and Second Reports of the Medicare Review Committee in two volumes: volume 1, paperback, white card cover with maroon print, 176 x 245 mm, 428 pages, typescript print; volume 2 paperback, maroon card cover with white print, 176 x 245 mm, 451 pages, typescript print. Chapter 4 Pages 44 to 68 in volume 2 reports on proposals for changes to optometry benefits proposed by the Australian Optometrical Association
Historical Significance:
Medicare is the Commonwealth funded health insurance scheme that provides free or subsidised health care services to the Australian population. It provides free hospital services for public patients in public hospitals through the Australian Health Care agreements with the States, subsides for private hospital stays, and provides benefits for out-of-hospital medical services such as consultations with GPs or specialists. Following mounting dissatisfaction with the existing voluntary health insurance scheme that had been in force since 1953. Medibank was Introduced by the then newly elected Whitlam Labor Government. It commenced on 1 July 1975 after the passing of the Medibank legislation by a joint sitting of Parliament on 7 August 1974. A Bill specifically to include optometry in Medibank was enacted on June 19 1975. Medibank was named Medicare in 1984. (See Chapter 14 Cole BL. A history of Australian Optometry. Melbourne; Aust Coll Optom: 2015 for more details).This Review Committee was established in July 1984 to review the Medicare Benefits Schedule and recommend changes to simplify the schedule, discourage fraud and over servicing and encourage efficient and proper health care, and also consider requests for extending the scope of Medicare to provide benefits for certain paramedical services.
How Acquired:
Donated by Optometry Australia
Location:
Archive room. East wall. Books by Australian authors