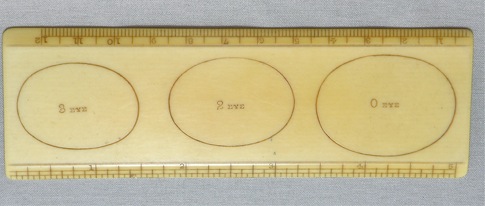 Pupillary Distance (PD) and Dispensing Rule
Sub-Category:
PD ruler, pupillometer
Corporation:
J & R Fleming Ltd.
Year Of Publication/Manufacture:
c 1950
Time Period:
1940 to 1999
Place Of Publication/Manufacture:
United Kingdom
Publisher/Manufacturer:
J & R Fleming Ltd
Description Of Item:
Ivorine plastic rule 128 mm x 42 mm with long edges bevelled. Face engraved with three ovals marked 3 EYE 2 EYE and 0 EYE centrally and with centimetre and inch graduations on the edges. Reverse edge is engraved with the word LINES and graduations 0 to 55 in 3 unit steps. The body of this face has two ovals labelled 1 EYE and 00 EYE and a datum line with inch graduations labelled ABOVE CENTRE and BELOW CENTRE and a vertical line labelled RIGHT SIDE OF LEFT EYE PLACE HERE. The right end of the datum line has inch and centimetre graduations marked 1 1/2 to 3 inches and 40 to 75 mm. The letters J & R F LTD appear on the lower right corner.
Historical Significance:
J & R Fleming, established in 1905, was a manufacturer of optical goods at 146 Clerkenwell Road, London. During WW2 its manufacturing plant was re-located to a property owned by the Littleton and Badsey Growers in Badsey, Worcestershire to avoid the London blitz. Goggles and screens for the Royal Air Force were made there. The company, then located in Eastleigh, Hampshire, went into liquidation in 1985.
How Acquired:
Donated by Robert Kaye
Condition:
Good, yellowed
Location:
Archive office. East wall shelves unit 3. Drawer 10