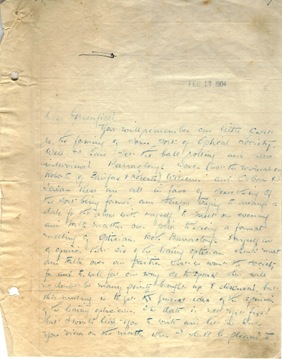 Letters in relation to the establishment of the first national optical association in Australia (Australasian Optical Association) founded 1904
Sub-Category:
Letter, notes, memos
Time Period:
1900 to 1939
Place Of Publication/Manufacture:
Sydney
Publisher/Manufacturer:
H Sanderson
Description Of Item:
Four letters; two hand-written and addressed to Mr A.P. Greenfield of Queensland, discussing the intention and progress being made in establishing an 'optical society' and two typed letters to Mr Wood. One letter to Wood invites him to an 'uncommittable meeting' to discuss the establishment of an optical society and the second is a response from Sanderson to Wood's reply to the invitationThe letters to Wood are pasted on one edge to the back of the Sanderson letter dated 17 February 1904 and cannot be removed without damaging the lettersThe letters to Greenfield are dated 17 February 1904 and 1 March 1904The letters to Greenfield are very faint and as far as can be deciphered say;Feb 17 1904Dear Greenfield, You will remember our little chat re the forming of some sort of Optical Society. Well I have got the ball rolling and have interviewed Barraclough, Bosch (not the Woollahra one) and Roberts (of Fairfax & Roberts) Wiesner and Osborn & (unclear) these are all in favr of something of the sort being formed. Am therefore trying to arrange a date for the above with myself to meet one evening and talk the matter over prior to having a formal meeting of Opticians. Both Barraclough & myself are of the opinion that six of the testing opticians would meet and talk over our position what we wants the society for and to feel our way so to speak. They will no doubt be many points brought up & discussed, but this meeting is to get a general idea of the opinion of the testing opticians. The date is not yet fixed but I would like you to write and let me know your view on the matter then I shall be please to place them before the meeting. You might also give your ideas as to what points need discussing such as free eyesight testing or no free testing. This is to points of interest bringing up. Jobbing price prescription price &c tho' this will not effect you much tho'. Another thing that wants to be gone into is our relation with the Oculists or any other matter you think require attention.I should have very much liked you to be with us on that auspicious occasion but I suppose that is impossible.Waiting the pleasure in hearing from you at an early date & wishing you a prosperous New Year.Faithfully YoursH. SandersonMarch 1 1904Mr A P GreenfieldDear Sir,Your letter received for which many thanks. A report of our first meeting will appear in the trade journal which FW Cocks will no doubt post you. Last night we had a meeting of the committee to draw up rules re formation &c and we got stranded on the eligibility. We could not get any further. Everybody was not agreed that every Tom, Dick and Harry so called optician should be allowed to join. I am afraid that this will be the knotty point. Personally I think some limit should be made not to include the little toy shop or the old clothes shop because they sell spectacles. The point is what is an opticians \ This point is going to be the trouble. Get over it and all will be right. Our meeting was postponed for further discussion.Again thanking you for the trouble you have takenYours faithfullyH. Sanderson
Historical Significance:
These letters describe developments in the process of establishing the first association of sight testing opticians (later optometrists) in Australia (The Australasian Optical Association) and lead ultimately to Optometry Australia and its State divisions. The Australasian Optical Association after several changes in its constitution and changes to its name became Optometry NSW&ACT.Sanderson and Greenfield were leaders of the profession in their respective States and prominent in the affairs of the profession for many yearsThe letters give insight into the attitudes of within the profession at the time and into the personality of Sanderson.
How Acquired:
Donated by Optometry Australia