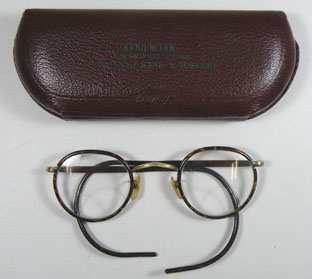 Pantoscopic-shape bifocal spectacles with curl sides and case
Category:
Spectacles and lenses
Sub-Category:
Spectacles with case
Time Period:
1940 to 1999
Description Of Item:
Gold-filled spectacle frame with faux tortoise shell covering on rims and the full extent of the curl sides, gold bridge with 1/10 10 stamped on back and EXB , and adjustable pads. Size as measured 38/24. Glazed with fused bifocals approx R and L +1.00 DS add +2.50 D. Contained in a wine coloured leatherette metal snap case with makers name (Lesbro) stamped underneath and the name of the optometric practice GEORGE REES PTY LTD 294 LT COLLINS ST MELBOURNE. Dimensions of the spectacles 110 x 38 mm; case 135 x 55 mm.
Historical Significance:
Lesbro was the trademark of Lessar Brothers Limited, Birmingham, UK for use on lenses, spectacles, spectacle frames, spectacle mountings, parts included in Class 9 of spectacle mountings, and spectacle cases. The trade mark was first applied for in July 1949 and expired on August 26 2008. Lessar Brothers Limited was in business making spectacle frames from 1919 and ceased business in 2001 having been acquired by Pennine in 2000. It had been in business for 81 years http://www.midlandheart.org.uk/default.aspx?id=424183 http://www.opticianonline.net/Articles/2000/11/17/11447/Pennine+snaps+up+case+firm+Lessar+Brothers.html. In Australia in the 1950s this style of frame was often called a demi-amber (DA) flex ful-vue
How Acquired:
Donated by Donald MacRaild. Project coordinator Vanuatu Prevention of Blindness Project
Location:
Archive Office. Spectacles cabinet Drawer 16