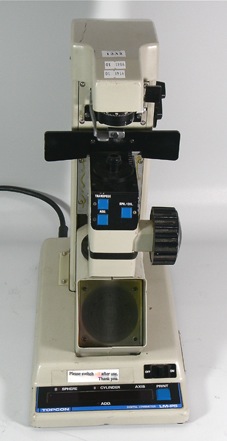 Topcon digital lensmeter (vertometer)
Sub-Category:
Vertometer, lensometer, focimeter
Committee:
Tokyo Optical Company Ltd
Year Of Publication/Manufacture:
c 1980
Time Period:
1940 to 1999
Place Of Publication/Manufacture:
Tokyo, Japan
Publisher/Manufacturer:
Topcon (Tokyo Optical Company Ltd)
Description Of Item:
Digital lensmeter (vertometer), mid-grey enamel metal casing, base 190 x 330 mm, Height 400 mm, with conventional manual operation using a black plastic knob for finding lens power and part-recessed horizontal control for finding the axis of any cylindrical component, frosted glass projection screen for viewing the focus lines (missing lens), lens holder combined with three-pen lens marking. There is a digital read-out on the front of the base for showing the spherical and cylindrical powers, cylinder axis and near addition. Power cord affixed to back of base. Plates on the back of the 'tower ' of the case (which contains the lamp), one reading 'Topcon lensmeter LM-P5' and the other 'Topcon LM-P5 / Volts 240 v No 609149 / Power 31 W Freq 50/80 Hz / Made in Japan'
Historical Significance:
The lensmeter (also known as a lensometer, vertometer and focimeter) is used to measure the back vertex power of ophthalmic lenses. The principle of the optical design of an instrument for measuring lens power was established by Snellen in 1876 but he used it as a phakometer. Troppmann introduced the first focimeter in 1912 in which dioptric power could be read off a scale. Previously opticians had used the lens curvature measure (spherometer). Carl Zeiss produced its first focimeter in 1915.This lensmeter represents a first step toward a computerised automated lensmeter. It is no more than a manual lensmeter, albeit with a projection screen for displaying the target mires instead of eyepiece optics, with a digital display of the result of the measurement.Tokyo Kogaku, was the precursor company to Topcon, a well known manufacturer of ophthalmic instruments. Tokyo Kogaku translates as Tokyo Optical Company, It was previously solely a manufacturer of photographic equipment. Tokyo Kogaku was founded in 1932. It resulted from the merger in September 1932 of the measurement instruments section of Seik sha (the manufacturing branch of Hattori Tokei-ten) and Katsuma K gaku Kikai Seisakusho. It began manufacturing ophthalmic instruments in 1947 and produced its first vertometer in the same year. It began using the Topcon brand name in 1953. See earlier focimeters by Tokyo Kogaku at Cat Nos. 0784 (c 1960) and 2885 (c1940).
How Acquired:
Purchased by Kett Optometry Museum
Condition:
Not in working order. Lens for viewing projection screen missing
Location:
Archive store room