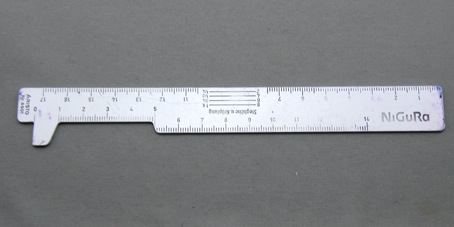 NiGuRa Pupillary distance (PD) Rule
Sub-Category:
PD ruler, pupillometer
Corporation:
NiGuRa Metzler GmbH
Year Of Publication/Manufacture:
c 1990
Time Period:
1940 to 1999
Place Of Publication/Manufacture:
Woergl, Austria
Publisher/Manufacturer:
Dennert and Pape
Description Of Item:
Flexible white plastic rule 180 mm x 20 mm marked with centimetre scale 0-17 with millimetre divisions on one edge and with reference lines 5, 10 and 15 degrees on one face. The other face is also marked with a centimetre scale on both edges and the words NiGuRa, ARISTO Nr. 8901 and Steghoehe u. Kroepfung, the latter being above four horizontal lines with the numbers 2, 4, 6 and 8 at one end and 1/4, 1/2, 3/4 and 1K at the other end.
Historical Significance:
NiGuRa was a brand name used by NiGuRa Metzler Optics International GmbH. It is derived from 'Old town optical industrial institute, Nitsche and Guenther' and founded in Dusseldorf, Germany in 1866. It has been a subsidiary of Moulen Global Eyecare Holdings Ltd since 12th October 2003. Dennert and Pape was founded in Hamburg, Germany in 1862 as a mathematical instruments maker, principally of slide rules. The trade mark Aristo was coined in 1936 when it developed the plastic Astrolon as an alternative to celluloid for its slide rules. A factory in Woergl, Austria began in 1943. Aristo still manufactures plastic mathematical and office products.
How Acquired:
Donated by Robert Kaye
Condition:
Poor, scuffed surface
Location:
Archive office. East wall shelves unit 3. Drawer 10