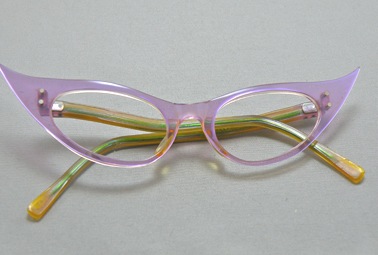 'Cat's eye' ladies spectacle frame
Category:
Spectacles and lenses
Sub-Category:
Spectacle frame
Year Of Publication/Manufacture:
c 1960
Time Period:
1940 to 1999
Description Of Item:
Ladies spectacle frame, 150 x 35 mm, violet colour shell, 'cat's eye' shape, saddle bridge, hockey sides, riveted front and side joints. No frame markings
Historical Significance:
Cat's eye glasses (sometimes called "cat eyes" or "cat glasses") are a shape of women's and sometimes men's eyewear. They have an upsweep at the outer edges where the temples or arms join the frame front. They were mainly popular in the 1950s and 1960s among women and are often associated with the Beehive hairstyle and other looks of the period. They preceded the large bug-eye glasses of the 1970s, 1980s, and 1990s. Notable wearers of cat eye glasses include: Audrey Hepburn, Barry Humphries as Dame Edna Everage, Jane Jacobs, Amy Lame, Lisa Loeb, Dinah Manoff, Elizabeth Taylor, Marilyn Monroe, Mary Whitehouse, and Barbara Windsor.
How Acquired:
Donated by Jim Spencer
Location:
Archive Office. Spectacles cabinet Drawer 17