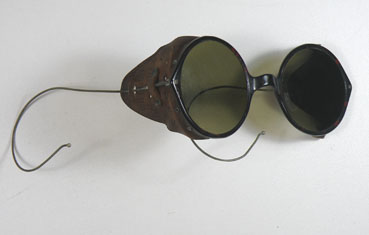 Willson protective glasses
Category:
Spectacles and lenses
Sub-Category:
Protective eyewear
Corporation:
Thomas A Willson and Co
Year Of Publication/Manufacture:
c 1920
Time Period:
1900 to 1939
Place Of Publication/Manufacture:
Reading, Pennsylvania, USA
Publisher/Manufacturer:
Thomas A Willson and Co
Description Of Item:
Protective glasses,large round eye shape, dark faux tortoise shell frames glazed with dark-tinted plano flat lenses, with leather side shields attached. Shields stamped WILLSON/MADE IN USA. Thin steel curl temples. measures 44/22. Overall dimensions 120 x 45 mm
Historical Significance:
Gile J. Willson and his son Dr. Thomas A. Willson founded Thomas A. Willson & Co in 1871 and built a factory to manufacture optical glass for lenses and reading glasses at the corner of Washington and 2nd streets in Reading, Pennsylvania. The company became known for addressing the occupational hazards faced by factory workers and is credited with launching the safety protection industry. Their first innovation was a protective lens that blocked dangerous rays produced by metal processing equipment. During the 1890s the company expanded to make hearing, respiratory and head protection equipment. The National Safety Council was created in 1913, and T.A. Willson & Co. Inc. helped set uniform safety standards in industry. Through the 1920s, they expanded their line of safety equipment to the protection of coal miners, military personnel, and aviation. In 1929 the company became Willson Goggles, Inc., and during the World War II, Willson Goggles made aviator goggles and high altitude oxygen masks for pilots in the military. In 1936, the company again changed its name to reflect an expanding product line. Willson Products, Inc. began to produce fashionable sunglasses, as modeled by the contestants of the 1938 Miss America pageant, and swim goggles, as worn by Florence Chadwick, who in 1950 was the first woman to swim both directions of the English Channel. The company changed hands in 1956, but maintained the Willson products name. In the 1980s, Willson shifted its focus to the development of new varieties of respirators, gloves and other protective equipment. In 1989, Dalloz bought Willson products, and changed the company name to Dalloz Safety in 1997. Dalloz closed the plant in May 2002. The building is now the GoggleWorks Centre for the Arts.
How Acquired:
Donated by Donald MacRaild. Project coordinator Vanuatu Prevention of Blindness Project
Location:
Archive Office. Spectacles cabinet Drawer 3