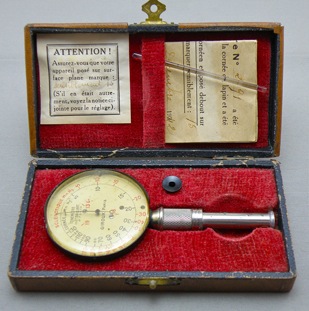 Bailliart tonometer, cased
Designer/inventor:
Paul Bailliart (1877-1969)
Year Of Publication/Manufacture:
1942
Time Period:
1940 to 1999
Place Of Publication/Manufacture:
Paris, France
Publisher/Manufacturer:
Giroux
Description Of Item:
Direct contact pressure probe of white metal barrel surmounted by an enclosed round dial. The dial has a fine metal pointer and is calibrated in mmHg from 5 to 130, for both scleral (SCLEROTIQUE) and corneal (CORNEE) measurements. Face marked 'TONOMETRE/ DU DR BAILLIART/ BTE 5.6.D.6/ GIROUX/ PARIS'. Rear marked 'MADE IN FRANCE/ 2191'. Housed in fitted case with brown leatherette cover, red velvet lining and brass clasp. The case also includes a small black cap, a 70mm fine glass rod and calibration papers dated 8 Decembre 1942.
Historical Significance:
The Bailliart tonometer formed the basis for the Wolfe tonometer, see Cat # 3160.Bailliart joined the army in the ?cole du Service de Sante of Lyon to acquire an education in medicine. He completed his medical education in 1900 and defended his thesis Traitement chirurgical de la myopie, en particulier par la suppression du cristallin (Surgical treatment of myopia, in particular by removing the lens).He became a member of the Societe d'Ophtalmologie de Paris in 1909, of which he was the Secretary General from 1922 to 1938. Bailliart was a military doctor during WW I and in 1929 joined he Quinze-Vingts National Ophthalmology Hospital as department head and remained in that position until his retirement in 1943. He gained an international reputation for his work on the retinal circulation and his development of Bailliart's ophthalmodynamometer, Bailliart's goniometer, and Bailliart's tonometer. He also published works concerned with the education of the blind.Bailliart was made an Officer of the French Legion of Honor, was awarded the Ordre des Palmes Academiques, and won the Donders Medal (1939) and the Gonin Medal (1945). He was the mayor of Massy, Essonne from 1926 to 1935 and wrote a history of this town.
How Acquired:
Purchased by Kett Optometry Museum
Date Acquired:
August 2018
Location:
Archive room. East wall Unit 3 Cupboard