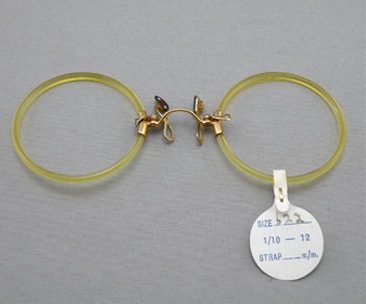 Hadley round eye shell pince-nez frame
Category:
Spectacles and lenses
Year Of Publication/Manufacture:
Early 20th C
Time Period:
1900 to 1939
Place Of Publication/Manufacture:
England
Publisher/Manufacturer:
Hadley Optical Company
Description Of Item:
Round-eye pince-nez frame, crystal shell rims (now yellowed) with gold cased bridge fitted with adjusting nose pads and small finger pieces. Unglazed. Bridge stamped 'Hadley 1-10 12'. 102 mm x 40 mm. Attached is a ticket stating on one side 'FINGERPIECE/HADLEY/MOUNTING/MADE IN ENGLAND' and on the other side 'SIZE 622/1/10-12 STRAP .... m/m'.
Historical Significance:
The Hadley Optical Company was an English frame manufacturer taken over by UKO International Ltd in 1967, which also absorbed other well known early 20thC English optical companies such as Wiseman and Raphael's. UKO International arose from The United Kingdom Optical Company that was founded in 1919. Similar to Cat # 1941
How Acquired:
Donated by Jim Spencer
Condition:
Rims yellowed, bridge mounting fine
Location:
Archive Office. Spectacles cabinet Drawer 9