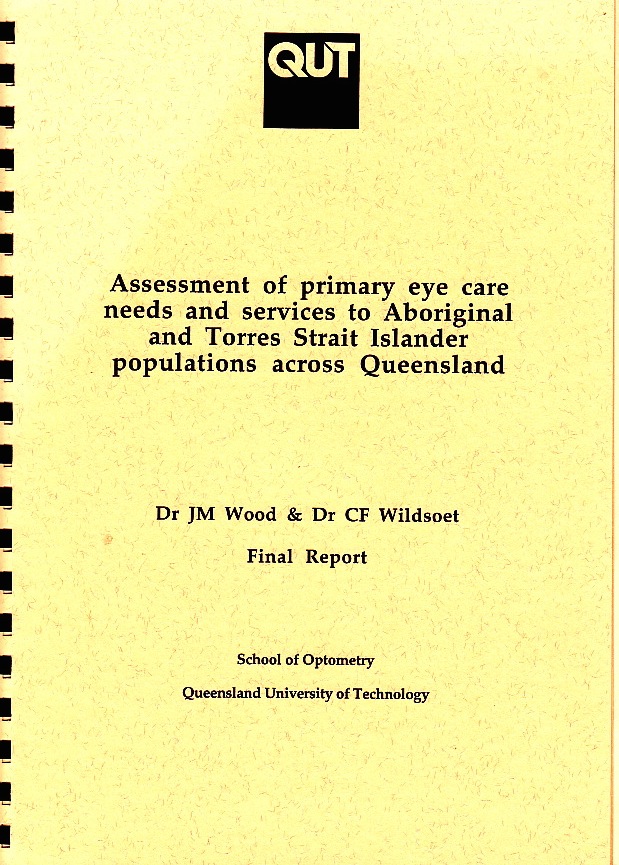 Assessment of primary eye care needs and services to Aboriginal and Torres Strait Islander populations across Queensland (Final Report)
Category:
Memorabilia and ephemera
Sub-Category:
Reports and submissions
Author:
WOOD JM, WILDSOET CF
Year Of Publication/Manufacture:
Undated c 1992
Time Period:
1940 to 1999
Place Of Publication/Manufacture:
Brisbane, Australia
Publisher/Manufacturer:
School of Optometry, Queensland University of Technology
Description Of Item:
Booklet, cream coloured card covers, 300 x 220 mm, spirex bound with clear plastic protective sheet over front cover, 68 numbered pages printed one-sided, followed by questionnaires and appendices on unnumbered pages.
Historical Significance:
It has been know since the 1950s that Aboriginal and Torres Strait Islander populations have significantly higher rates of visual impairment and blindness than the general Australian population (Flynn F. Trachoma among natives of the Northern of Australia. Med J Aust 1957; 11: 269-277. Mann IC. Ophthalmic survey of the Kimberley division of Western Australia. Perth; Government Printer: 1954 Mann IC. Ophthalmic survey of the Eastern Gold fields area of Western Australia. Perth; Government Printer: 1954.). Numerous subsequent surveys have confirmed that what is now called the 'vision gap' continues to the present day despite numerous programs to reduce the prevalence of poor vision among the ATSI populations. Optometrists made a number of contributions providing eye care programmes and documenting the problem and evaluating the effectiveness of programs to alleviate it. (See Cole BL. A History of Australian Optometry 2015 for a summary). This report, written by two Australian optometry academics from QUT, gives the results of a survey of the needs for better eye care for ATSI populations in Queensland and the resources already available to do so. The study was funded by the Australian Institute of Aboriginal and Torres Strait Studies, an Australian Government statutory authority established under the Public Governance, Performance and Accountability Act 2013. The report points out that local resources are available to provide better eye care to Aboriginal and Torres Strait Islander communities. All that is needed is organisation to bring the resources to the communities, a point previously made by Effiott 25 years earlier but on the basis of personal experience rather than a formal study (Health problems of Aborigines and Torres Strait Islanders in Queensland. Aust J Optom 1979; 62: 49-63.)This report is undated but the results were reported in part to a conference held in 1992 and a peer-reviewed paper reporting some of the results was published in 1996.
How Acquired:
Donated by Optometry Australia
Location:
Archive office. Pamphlet and ephemera filing cabinet. Drawer 8