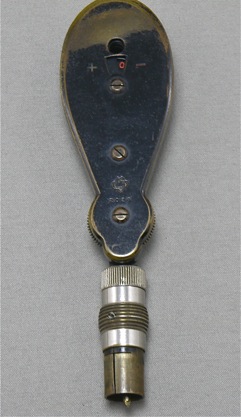 Sub-Category:
Ophthalmoscope
Designer/inventor:
George R Hare
Year Of Publication/Manufacture:
c1915
Time Period:
1900 to 1939
Place Of Publication/Manufacture:
Mt Vernon, New York, USA
Publisher/Manufacturer:
General Optical Co (Genothalmic)
Description Of Item:
Electrical ophthalmoscope head. Brass pear shaped body finished in black enamel paint. Lens powers in 1 Dioptre steps from plus 1 to 20 and minus 1 to 29. Lens positioned by knurled edge brass wheel at the base of the frame. A supplemental +20D lens for examining the cornea and lens slides into place by moving two small knobs mounted on the rear of the instrument. A slotted Marple mirror reflects light from the electrical bulb within the tubed casing into the eye. Threaded brass and nickel plated mount can connect head to a battery handle or AC power supply. Marked with impressed 'cross links' logo of Genothalmic (General Optical Co) and '2024'.
Historical Significance:
This ophthalmoscope head was recently found in the optometrist's consulting room cabinet #1487 which was donated in April 2010. The ophthalmoscope was concealed behind the cabinet's trial case of lenses which was removed to shift the cabinet in 2018. Victor Simon qualified in optometry in 1927 by completing the 3-year part time course run by the Institute of Optometrists of NSW. He went into partnership with AJ Wyatt at 74 Pitt Street Sydney and later moved to Macquarie Street, then the medical street of Sydney. Wyatt was the Secretary of the NSW Institute, which had its address in Wyatt's practice. Simon was active in the profession. See HJ Alexander Aust J Optom 1975; 58: 352-353. He was a councillor of the Institute until 1968 and served as its President. He was also National president of the Australian Optometrical Association 1951-1952. He was very active in education, both his own and in teaching at the NSW Optometry course. He studied physiology for 3 years at the University of Sydney (1930-32), obtained his Fellowship of the UK Institute of Opticians in 1969 and took courses in contact lenses. He was on the NSW Registration Board 1947-1969. He was made an honorary life member of the AOA. He died in 1975.
How Acquired:
Donated by Anthony Simon, optometrist, son of Victor Simon, NSW optometrist
Date Acquired:
April 2010
Condition:
Good but black paint worn
Location:
Archive Office. Cabinet One Drawer 10