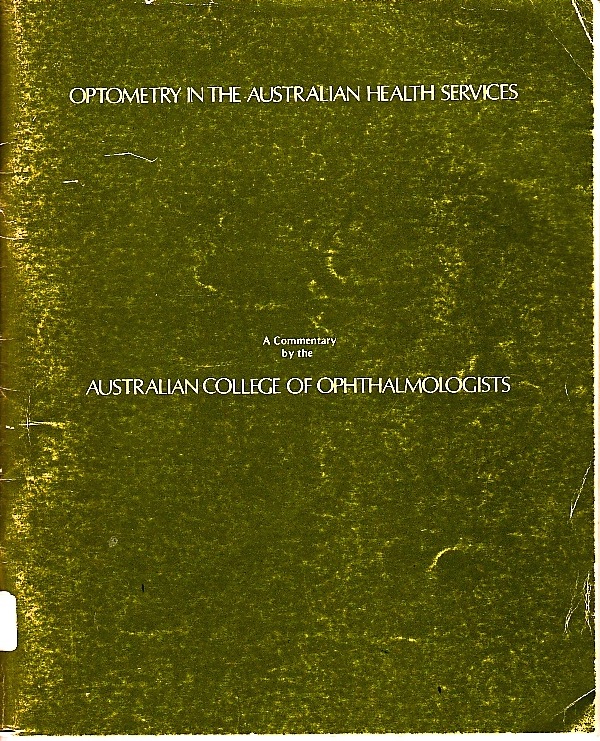 Optometry in the Australian Heath Services. A commentary by the Australian College of Ophthalmologists
Editor:
FAIR James (Executive Secretary of Australian College of Ophthalmologists)
Year Of Publication/Manufacture:
1974
Time Period:
1940 to 1999
Place Of Publication/Manufacture:
Sydney, Australia
Publisher/Manufacturer:
Beever Press
Description Of Item:
Booklet, green printed wrapper, 250 x 205 mm, 80 pages, rubber stamp for the Wright library of the Australian Optometrical Association on front fly leaf
Historical Significance:
The booklet published in June 1974 was written to rebut a submission made by the Australian Optometrical Association to the Welfare Committee of the Federal Parliamentary Labor Party and to demean the optometrical profession. It was written in the course of the political battle by the AOA to have optometrical services included in the then very new universal health insurance scheme, Medibank (later named Medicare). Medicare was legislated on April 2 1974 after a double dissolution election held to enable the legislation to pass through a joint sitting of both houses of parliament. It provided benefits to be paid for ophthalmological services but not those same services provided by optometrists. Ophthalmologists bitterly opposed the idea of optometrical benefits because it would give formal recognition to optometry as a health profession and would remove the monetary completive advantage ophthalmologists would continue to have if benefits were not paid for optometrical services.Optometry won the battle. Legislation to provide for optometrical benefits was enacted on June 19 1975.A detailed account of the political battle can be found in Chapter 14 of the book 'A history of Australian Optometry' by Barry Cole.
How Acquired:
Donated by Optometry Australia (Wright Library)
Condition:
Fair. Covers scuffed and library markings
Location:
Archive office. Pamphlet and ephemera filing cabinet. Drawer 8