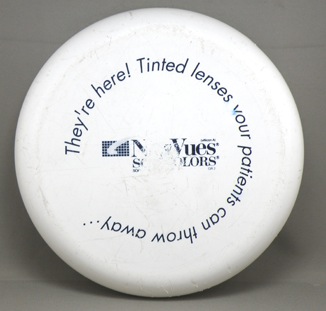 Ciba Vision New Vues Softcolors Promotional Frisbee
Category:
Memorabilia and ephemera
Sub-Category:
Advertising, trade and products
Year Of Publication/Manufacture:
c 1990
Time Period:
1940 to 1999
Description Of Item:
White plastic Frisbee 224 mm diameter, 23 mm high, with the wording New Vues SOFTCOLORS Soft contact lenses, centrally placed and surrounded by the phrase They're here! Tinted lenses your patients can throw away......
Historical Significance:
An example of promotion of a new line of disposable contact lenses.
How Acquired:
Donated by Colin Bates
Date Acquired:
10-09-2018
Condition:
Fair. Central printing partially removed. Nicks and scratches on surface.
Location:
Archive room. West wall. Unit 6 Drawer 5