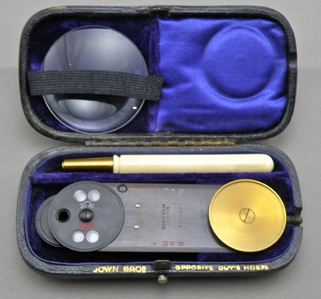 Down Brothers ophthalmoscope, cased
Sub-Category:
Ophthalmoscope
Year Of Publication/Manufacture:
c1900
Time Period:
1900 to 1939
Place Of Publication/Manufacture:
London, England
Publisher/Manufacturer:
Down Brothers
Description Of Item:
Cased non-luminous ophthalmoscope with ivory handle and brassed metal mount. Black metal head. Two round perforated mirrors on a revolving plate on rear of instrument, the smaller mirror is mounted obliquely. Knurled brass disc turns to position a large range of lenses; 0 to +12 and to -20. The lens power is diplayed in a small window at the right of the instrument head. Four supplementary lenses (+5, +20, -10, -30) are mounted on a black disc which rotates at the top of the head. Instrument impressed 'DOWN BROS/ LONDON/ PATENT. Condensing lens +13.50 held in lid of case. Black grained leather hinged fitted case with violet velvet and satin lining. Gold stamped on inner lower rim 'DOWN BROs OPPOSITE GUY'S HOSPL'.
Historical Significance:
Founded in 1879, the firm of Down Brothers manufactured high quality medical and surgical instruments. In 1946 Down Bros amalgamated with Myer & Phelps Ltd (specialists in instruments for ear, nose & throat surgery). The Downs Group has since acquired other manufacturers of surgical instruments including Lewis Brothers (neurological instruments) in 1960, and more recently Carlsberg & Froud (non ferrous instruments).
How Acquired:
Donated by Michael Aitken
Location:
Archive Office. Cabinet One Drawer 10