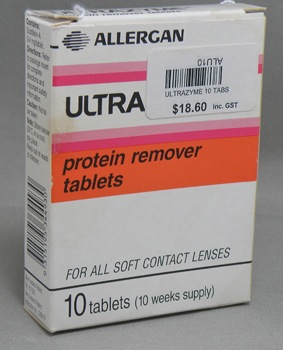 Box of Allergan Ultrazyme Tablets
Corporation:
Allergan Inc.
Year Of Publication/Manufacture:
c 2000
Publisher/Manufacturer:
Allergan Australia Pty Ltd
Description Of Item:
White cardboard box, 97 x 71 x 22 mm, with Allergan, Allergan Logo, Ultrazyme, Protein remover tablets, for all soft contact lenses, 10 tablets (10 weeks supply) printed on front and back faces. Details of contents and summary of instructions for use are printed on the sides and expiry date Nov 2003. Box contains 5 tablets in a blister pack.
Historical Significance:
Ultrazyme was part of a suite of chemical agents designed to clean and disinfect soft contact lenses. Subtilisin, an enzyme which could break down denatured surface protein on lenses was used in conjunction with hydrogen peroxide to clean lenses during disinfection. The hydrogen peroxide was later neutralised with Catalase to enable the lenses to be worn without discomfort
How Acquired:
Donated by Karingal Optical
Condition:
Good. Stain on front face.
Location:
Archive room. West wall. Unit 6 Drawer 2