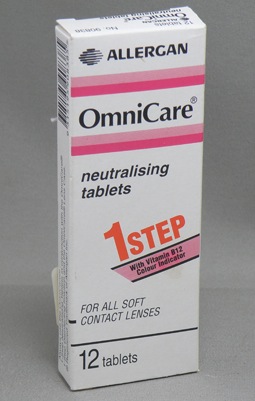 Box of OmniCare Neutralising Tablets
Category:
Spectacles and lenses
Sub-Category:
Contact lenses and accessories
Corporation:
Allergan Inc.
Year Of Publication/Manufacture:
c 2000
Publisher/Manufacturer:
Allergan Australia Pty Ltd
Description Of Item:
White cardboard box, 113 x 43 x 15 mm, with Allergan Allergan Logo, OmniCare neutralising tablets, 1 Step, with Vitamin B12 colour indicator, for all soft contact lenses and 12 tablets printed on front and back faces. Printing on sides refers to contents and brief instructions for use. Expiry date Apr 2003. Box contains 11 tablets in a blister strip and a leaflet of detailed instructions for use.
Historical Significance:
OmniCare was a soft contact lens cleaning and disinfection system utilising Hydrogen Peroxide as disinfectant. This needed to be neutralised to form normal (0.9%) saline before the lenses were inserted into the eye. Catalase contained in the tablets was released after a sufficient time for disinfection to neutralise the Hydrogen peroxide. Insertion was not recommended until 4 hours after the start of the process.
How Acquired:
Donated by Karingal Optical
Location:
Archive room. West wall. Unit 6 Drawer 2