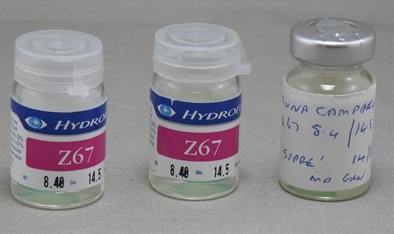 Z67 High Minus Soft Contact Lenses
Category:
Spectacles and lenses
Sub-Category:
Contact lenses and accessories
Corporation:
Hydron Pty Ltd
Year Of Publication/Manufacture:
c 2003
Place Of Publication/Manufacture:
Adelaide, South Australia
Publisher/Manufacturer:
Hydron Pty Ld
Description Of Item:
Three glass vials, two with plastic snap on caps, one with a silver metal cap, each containing a green tinted 33% xylofilcon A, 67% water soft content soft contact lens of 8.4 mm BCOR, 14.5 mmm diameter, and -17.25 D power. Two vials have labels printed Hydron Z67 and Contains one STERILE soft contact lens 33% xylofilcon A 67% water immersed in a preservative free saline solution. Exp 08/09. The third lens has a hand-written label with lens parameters, patient name, spare and 14/3/03 in blue ink.
Historical Significance:
Hydron Australia manufactured contact lenses in Adelaide offering an extensive range of materials, tints and lens designs. It was taken over by Coopervision (Australia) Pty Ltd.
How Acquired:
Donated by Colin Bates
Location:
Archive Office. Cabinet One Drawer 16