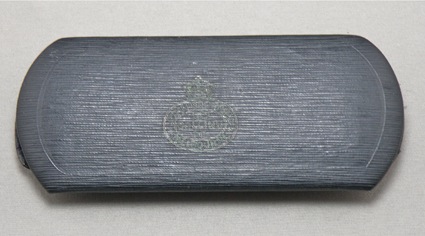 Black snap spectacle case for John Browning
Category:
Spectacles and lenses
Sub-Category:
Spectacle case
Year Of Publication/Manufacture:
c 1940
Time Period:
1900 to 1939
Description Of Item:
Black grained metal snap spectacle case, 135 x 55 mm, convered with black grained fabric and violet velvet lining. Stamped on base JOHN BROWING / 182 COLLINS ST / MELBOURNE within a cartouche bearing a crown above.
Historical Significance:
John Browning was a well known firm of opticians in Melbourne in the first half of the 20th century. It proprietor was S Raphael and later (in the 1960s) his daughter, Miss Yvonne Raphael, who was not an optometrist. It had a classy air designed to attract a discerning and moneyed class of clients. Its name, John Browning, suggests it may have been related to the very well regarded London firm of opticians and scientific instrument makers founded by John Browning (c.1831 - 1925). This Browning was an inventor and manufacturer of precision scientific instruments in the 19th and early 20th centuries. He hailed from a long line of English instrument makers and transformed the family business from one dealing in nautical instruments to one specialising in scientific instruments. Browning was particularly well known for his advances in the fields of spectroscopy, astronomy, and optometry. He was the foundation President of the British Optical Association. However, there is no known connection between John Browning Melbourne and John Browning London.
How Acquired:
Donated by Robin Adams
Location:
Archive room. West wall. Unit 4 Drawer 5