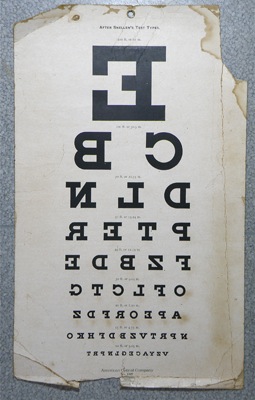 Visual acuity chart. Test Types after Snellen
Sub-Category:
Visual Acuity, Contrast sensitivity tests
Year Of Publication/Manufacture:
c 1920
Time Period:
1900 to 1939
Place Of Publication/Manufacture:
Southbridge, Mass, USA
Publisher/Manufacturer:
American Optical Company
Description Of Item:
Visual acuity chart printed on stiff card, 277 x 457 mm, reversed letters for use with a mirror, nine lines of serif letters of decreasing size and number in each line. The letters are proportioned to Snellen's 5 x 5 grid. The size of each line of letters is expressed in terms of distance in feet and metres, so for example the 20 feet (6.1 m) line is the 20/20 (6/6) line. The smallest line is 20/10 (6/3) and the largest in 20/200 (6/60). At the top is written AFTER SNELLEN'S TEST TYPES. At the bottom is the name of the manufacturer AMERICAN OPTICAL COMPANY with a numerical identifier No. 1927. Below that are the words WELLSWORTH / PRODUCTS / FOR BETTER EYESIGHT enclosed in an oval and the words Reg US Pat. Off. There is a brass eyelet for hanging the chart on a wall.
Historical Significance:
This visual acuity chart was previously owned by Miss Ella Lillian May Pink (1890-1986), an Australian woman optometrist who qualified in optometry in London in 1915 and practised optometry in Australia from 1917 until September 1953.The chart is similar to the Spencer Optical Company's visual acuity chart after Snellen (See Cat No 2005) and both are derived from Snellen's visual acuity chart of 1862. The American Optical Company acquired the Spencer Optical Company in 1935. In view of the years in which the previous owner was in practice (1915 to 1953) and the charts archaic design with serif letters and the absence of the modern 20/20 (6/6) style of notation this chart probably dates between 1915 and 1935.
How Acquired:
Donated by Noel Dawson (Estate of Ella Pink)
Condition:
Poor. Edges and corners are torn and water stained and creased
Location:
Archive room. West wall. Unit 4 Drawer 3