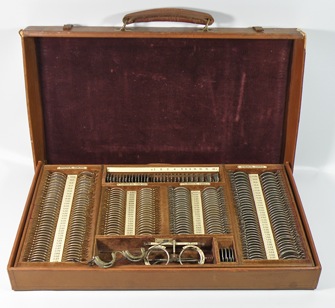 Trial lens set made by American Optical Company in leather travelling case
Sub-Category:
Trial lens case
Designer/inventor:
PRENTICE Charles
Year Of Publication/Manufacture:
c 1915
Time Period:
1940 to 1999
Place Of Publication/Manufacture:
Southbridge, Mass, USA
Publisher/Manufacturer:
American Optical Company
Description Of Item:
Trial lens set in wooden case, 525 mm w x 283 mm D x 40 mm H, divided into compartments for different classes of lens including spherical and cylindrical lenses in biconvex and biconcave lens form in brass metal rims with handles ranging in power from 0.12 D to 20 D, positive and negative cylindrical lenses ranging in power from 0.12 D to 6.00 D, 15 trial prism lenses from one prism dioptre to 10 prism dioptres, a set of 4 pinholes and stenopeaic slits and 14 auxiliary lenses including a Maddox rod and a bi-prism. The lens powers are marked in dioptres. The case is lined with light brown velvet. There are two original trial frames in the compartment designed to hold them. One is a simple 3-cell half-eye trial frame with straight sides and an axis scale for cylindrical lenses; the other is a complex full rim 3-cell trial frame with adjustable PD, cylinder axis, nose rest and sides. The lens case is contained in a carry case made of light timber covered with brown leather with a hinged lid (hinge damaged) the inside of which is lined with red-purple velvet. The lid is secured closed with a leather strap and has a leather carry handle. In the trial frame compartment is a plague reading AMERICAN OPTICAL COMPANY / SOUTHBRIDGE, MASS and the cities at which the company had offices.
Historical Significance:
This trial lens set was previously owned by Miss Ella Lillian May Pink (1890-1986) an Australian woman who qualified in optometry in London in 1915 and practised optometry in Australia from 1917 until September 1953.The maker of this trial lens set, American Optical Company was incorporated in 1869 although it had an earlier small business history that began in 1833. It became very large and highly respected company making spectacle frames, ophthalmic lenses, eye protection products, ophthalmic instruments and microscopes. After several decades of restructuring and selling certain operations because the changing patterns of technology and competition, it was absorbed into Carl Zeiss Vision in 2005, bringing to end a 136 year history of a remarkably innovative and successful optical company.American Optical made trial frames from 1884 and produced its first trial lens set in 1895. It produced a trial lens set designed by noted New York optometrist Charles Prentice in 1898 based on the lenses being designated in effective power and made to close tolerance as well having a wide range of lens powers and comprehensive sets of auxiliary lenses and devices. It was the deluxe trial lens set of its day. It was superseded in 1918 by a new AO trial lens set designed by Dr Edgar D Tillyer, who joined the company in 1916 to lead the company's lens design and instrument development. This trial set owned by Ella Pink is an example of the Prentice designed trial lens set made between 1898 and 1920. It is Model 2060 (Model 2061 had an outer case with a drawer.) The two trial frames in her trial set were probably supplied with the trial lens set (See photo at http://www.dickwhitney.net/AOTrialLensSets.html which shows these trial frames with the trial lens set).
How Acquired:
Donated by Noel Dawson (Ella Pink collection)
Condition:
Very good except the hinge of the lid of the carry case is damaged so the lid is detached from the body of the case. There are no missing lenses.
Location:
Archive office. East wall shelves unit 2