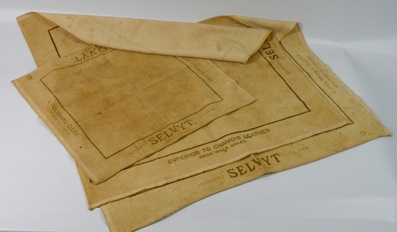 Three Selvyt polishing cloths
Sub-Category:
Dispensing tool
Time Period:
1900 to 1939
Place Of Publication/Manufacture:
England
Publisher/Manufacturer:
Selvyt
Description Of Item:
Three Selvyt polishing cloths, three sizes, 35 x 32 cm, 53.5 x 42 cm, 52 x 49.3 cm, yellow chamois-like material with a printed brown square outside of which is printed 'REGISTERED SELVYT TRADE MARK' (along two sides), 'A POLISHING CLOTH / GOOD AS NEW WHEN WASHED' and 'SUPERIOR TO CHAMOIS LEATHER / WASH WHEN SOILED' The different sizes are marked by a letter B, D or E.
Historical Significance:
These cloths were previously owned by Miss Ella Lillian May Pink (1890-1986) an Australian woman who qualified in optometry in London in 1915 and practised optometry in Australia from 1917 until September 1953.3 and would have been used by her for cleaning lenses of spectacles and other optical goods.Selvyt cleaning cloths were first made in 1895, the textile company making them having been founded in 1890. Selvyt is now a division of Edmund Bell a soft furnishings company founded in 1855. The product is still available.
How Acquired:
Donated by Noel Dawson (Ella Pink collection)
Location:
Archive room. West wall. Unit 1 Drawer 3